KPMG "Head Start" Recruiting Event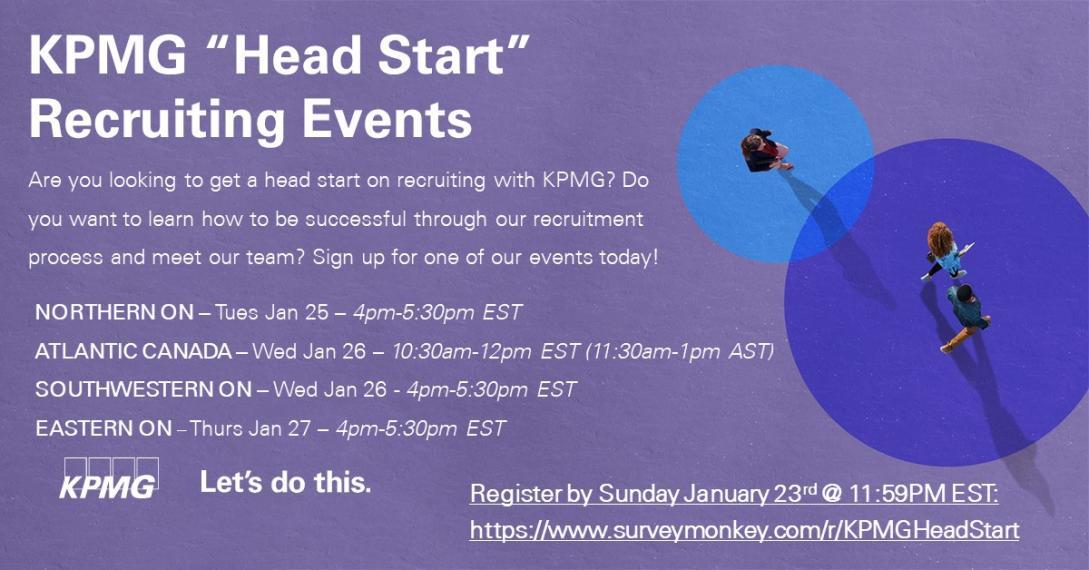 Details
KPMG "Head Start"

Are you looking to get a head start on recruiting with KPMG? Do you want to learn how to be successful through the recruitment process and meet the KPMG team? Learn tips and tricks for networking, application writing and interviewing.

There will be 4 different recruiting events during the week of January 24, 2022. These events target students with an interest in recruiting with KPMG's Regions East office locations including South Western Ontario, Northern Ontario, Eastern Ontario and Atlantic Canada.

Northern Ontario Offices (Sudbury, Sault Ste Marie, North Bay):
Date:  Tuesday, January 25, 2022
Time: 4:00 pm - 5:30 pm EST
Register here by Sunday, January 23, 2022, 11:59 pm EST
About the Business Career Development Centre
The Business Career Development Centre (BCDC) offers tailored career support to business students at the University of Guelph. The BCDC provides access to workshops, events and services including mentoring and networking opportunities, one-on-one career coaching, and assistance building your professional online presence. The BCDC strives to ensure the legitimacy of external events and workshops posted we promote to students. As a participant in any event or workshop, we encourage you to exercise due diligence, and research the integrity of the organization(s) prior to attending. If you have any questions or concerns, please contact our office.
Share this page
Find related events by keyword