See yourself at Fidelity: Stories from Fidelity co-op students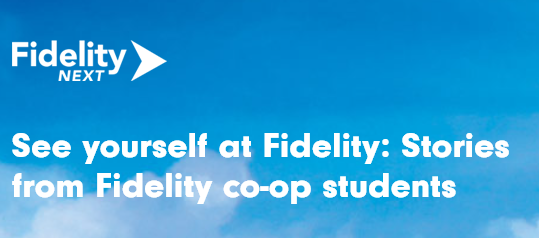 Details
Did you know that Fidelity welcomed over 140 co-op students and recent graduates in 2021, offering roles from marketing to sales and investment management? Hear directly from previous and current students about their experiences working at Fidelity, and the opportunities in 2022 and beyond.
Date: Friday, January 21, 2022
Time: 1:30 p.m. – 2:00 p.m. ET
Guests:
Michael Aloise, Fidelity Campus Ambassador
Sarah Horbal, Current Fidelity Co-op Student
Eric Wood, Fidelity Campus Ambassador
Registration Link: https://go.fidelity.ca/WC_STAloiseHorbalWood012122_01.EN-WebcastRegistrationLP.html
About the Business Career Development Centre
The Business Career Development Centre (BCDC) offers tailored career support to business students at the University of Guelph. The BCDC provides access to workshops, events and services including mentoring and networking opportunities, one-on-one career coaching, and assistance building your professional online presence. The BCDC strives to ensure the legitimacy of external events and workshops posted we promote to students. As a participant in any event or workshop, we encourage you to exercise due diligence, and research the integrity of the organization(s) prior to attending. If you have any questions or concerns, please contact our office.
Share this page
Find related events by keyword