Discover Ability Presents: Wrongful Dismissal with Aird & Berlis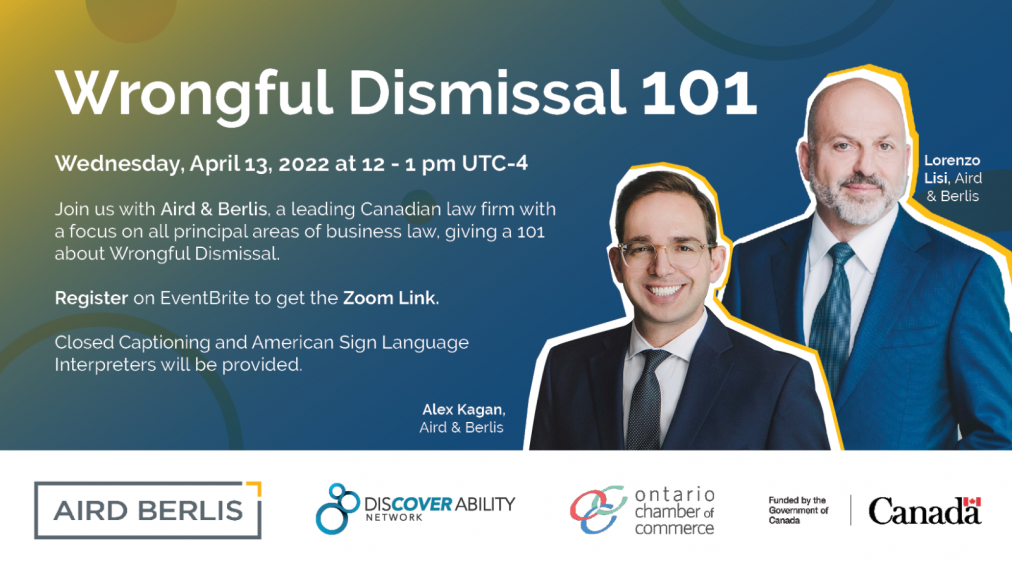 Details
Discover Ability Presents: Wrongful Dismissal with Aird & Berlis

Join Discover Ability with Aird & Berlis, a leading Canadian law firm with a focus on all principal areas of business law, giving a 101 about Wrongful Dismissal.

How does one define Wrongful Dismissal? As businesses become more inclusive, conversations surrounding around accommodation become more pervasive. At the same time, grounds for dismissal can be more opaque.

So, what constitutes grounds for dismissal versus the need for further accommodation?

Joining Discover Ability are Lorenzo Lisi and Alex Kagan from Aird & Berlis, giving us the 101 about Wrongful Dismissal. Topics being discussed include:
Accommodation Requests
Performance Management (Re: Accommodations & Needs)
Demands & Statement of Claims
Potential Liabilities & How to Protect
How to Proactively Avoid Wrongful Dismissal Claims
What Organizations without HR functions/departments can do to manage these elements?

Date: Wednesday, April 13, 2022.
Time: 12:00 p.m. to 1:00 p.m.

Click here to register!

Please contact Elizabeth Novak @ ElizabethNovak@occ.ca if you require an accommodation. This session will have closed caption and ASL (American Sign Language) Interpreters. ASL Interpretation is brought to you by the Toronto Sign Language Interpreter Service.
About the Business Career Development Centre
The Business Career Development Centre (BCDC) offers tailored career support to business students at the University of Guelph. The BCDC provides access to workshops, events and services including mentoring and networking opportunities, one-on-one career coaching, and assistance building your professional online presence. The BCDC strives to ensure the legitimacy of external events and workshops posted we promote to students. As a participant in any event or workshop, we encourage you to exercise due diligence, and research the integrity of the organization(s) prior to attending. If you have any questions or concerns, please contact our office.
Share this page
Find related events by keyword