The Future of Insurance Webinar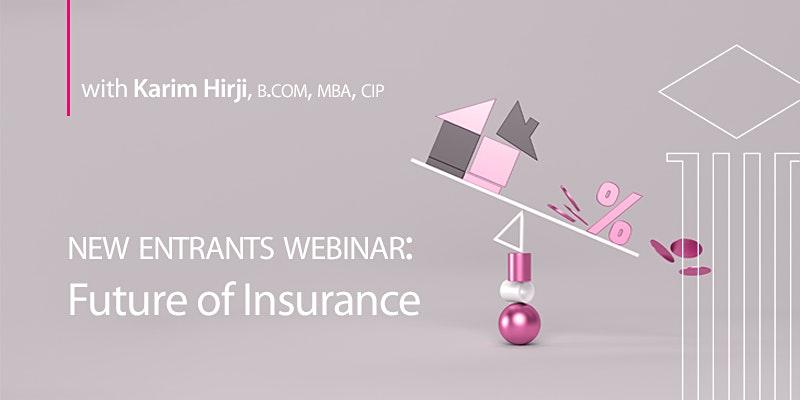 Details
We will explore the Future of Insurance with Karim Hirji, B.Com, MBA, CIP, CFO Intact Canada & Managing Director at Intact Ventures.
About this event
Please join us on May 19, 2022, from 1:00 – 2:15 PM EST as we explore the Future of Insurance with Karim Hirji, B.Com, MBA, CIP, CFO Intact Canada & Managing Director at Intact Ventures.
Karim brings 20+ years of experience at Intact to the discussion, where he primed the launch of Intact Ventures, deployed over $300MM in start-up capital to p&c disruptors, and led the launch of their new AI Lab in Hong Kong.
As members of the p&c insurance sector, planning for emerging risk is critical for our future. Our discussion with Karim will be an unscripted exploration of how the latest technologies may be leveraged to evolve our industry.
What role will AI play in assisting insurers to assess risk, detect fraud and prevent future loss? What role will machine learning and big data play in driving hyper-personalization? Are consumers ready for a sensor driven insurance world? What skills will be required in the future to succeed at the intersection of humans & technology which is driving our industry forward.
Join the discussion and let's explore these topics from a global perspective.This webinar is part of the Institute's New Entrants programming, connecting you to people and topics that will help you navigate your career in the industry!
Brought to you by:
The Insurance Institute of Canada, the premier source of professional education and career development for the property and casualty insurance industry. We empower insurance careers and are your partner in maximizing your potential. Find out more at www.career-connections.info.
About the Business Career Development Centre
The Business Career Development Centre (BCDC) offers tailored career support to business students at the University of Guelph. The BCDC provides access to workshops, events and services including mentoring and networking opportunities, one-on-one career coaching, and assistance building your professional online presence. The BCDC strives to ensure the legitimacy of external events and workshops posted we promote to students. As a participant in any event or workshop, we encourage you to exercise due diligence, and research the integrity of the organization(s) prior to attending. If you have any questions or concerns, please contact our office.
Event Website
Share this page
Find related events by keyword