Canadian Marketing League Information Booth
Location
Mac Hall - Marketplace Lobby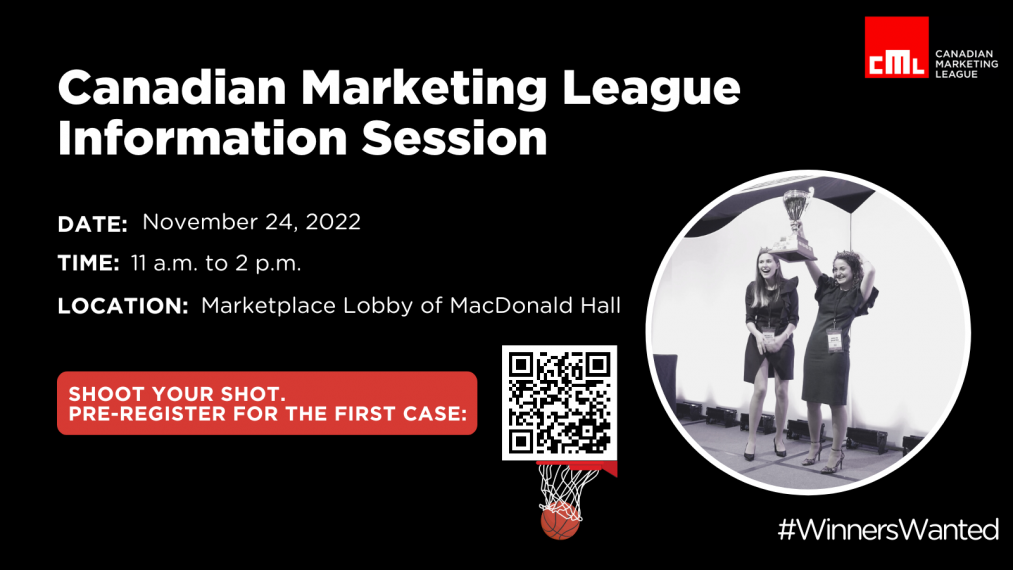 Details
Do Challenges Excite You? Take Part in the Canadian Marketing League!
Calling ALL young and ambitious marketers! 
Think you're tough enough to play the game? 
Good enough to think of the next big thing and jumpstart your career into the big leagues? 
Where can you find us?
Come visit us on Thursday November 24th 11am-2pm, 2022, in the Marketplace Lobby of MacDonald Hall, to learn more about CML and how to jumpstart your career and declare your passion as a brand champ. 
How can you get involved? 
Visit our website to REGISTER to receive our pre-season case when it drops! 
Link: https://www.marketingleague.ca/contact-8
----
Who are we? 
We are the largest and most influential marketing competition in Canada. 
We are the Canadian Marketing League (CML), built from the strengths and 13-year history of Canada's Next Top Ad Exec. 
What do we do? 
CML is designed for students who seek achievement beyond the classroom; they pursue experiences which will shape their careers and want a platform to showcase their marketing savvy. It's an ideal playground for marketing athletes - those committed, driven, and hungry to prove themselves - ready to play in the big leagues.
CML partners with best-in-class organizations like PepsiCo, Microsoft, Kraft Heinz, General Motors and McDonald's to offer $20,000 in prizing and exclusive career opportunities to students participating from across the country. 
About the Business Career Development Centre
The Business Career Development Centre (BCDC) offers tailored career support to business students at the University of Guelph. The BCDC provides access to workshops, events and services including mentoring and networking opportunities, one-on-one career coaching, and assistance building your professional online presence. The BCDC strives to ensure the legitimacy of external events and workshops posted we promote to students. As a participant in any event or workshop, we encourage you to exercise due diligence, and research the integrity of the organization(s) prior to attending. If you have any questions or concerns, please contact our office.
Share this page
Find related events by keyword