Excel 1: Core Data Analysis with the Marquee Group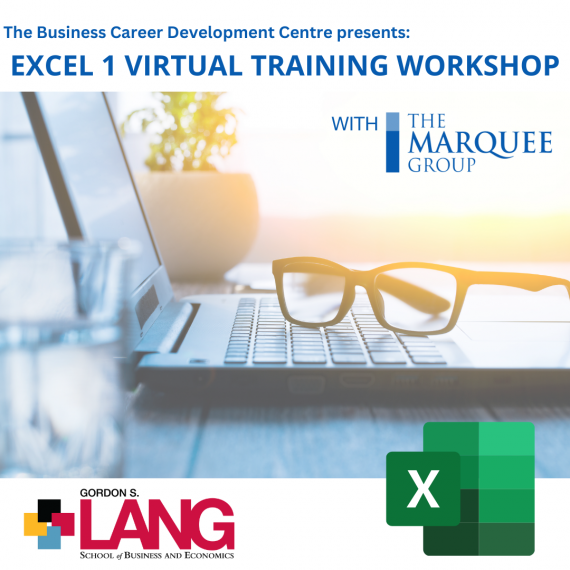 Details
Excel 1: Core Data Analysis (For B.Comm Students ONLY)

This is a full day seminar that combines interactive discussions with hands-on Excel computer work.

Date: Saturday, November 4th, 2023
Time: 9:00 a.m. - 5:00 p.m.
Cost: $26.55 + HST ($30 total)
Location: Zoom Virtual Conference
    
Overview:
This course has been designed specifically to prepare participants for the rigor and expectations of manipulating and synthesizing data in a business environment
Assignments, handouts and examples will be used throughout the session
Students should have a strong working knowledge of Excel prior to taking this course
Course Benefits:
Transforms participants into Excel "Power Users"
Bridges the gap between academic course work and real-world application
Prepares students for employment in the business world
Covers topics included in the training provided by major banks and corporations
Individualized attention from instructors
Experiences instructors are seasoned financial professionals
Learning Topics:
Use numerous built-in Excel functions to interpret and manipulate data
Use various filters in conjunction with specific arithmetic functions to summarize large volumes of data
Use Lookup functions to efficiently extract information
Create nested formulas to expand a functions' flexibility
Incorporate widely used financial and arithmetic functions
Use powerful Text functions to manipulate non-numeric variables
Use logical functions to create complex formulas
Become proficient with Pivot Tables to quickly analyze and format large quantities of data
Learn to use many valuable keyboard shortcuts
 
Register for the course here! Registration is set to close at 11:59 p.m. on October 31st, for us to adequately prepare for the session. 
About the Business Career Development Centre
The Business Career Development Centre (BCDC) offers tailored career support to business students at the University of Guelph. The BCDC provides access to workshops, events and services including mentoring and networking opportunities, one-on-one career coaching, and assistance building your professional online presence. The BCDC strives to ensure the legitimacy of external events and workshops posted we promote to students. As a participant in any event or workshop, we encourage you to exercise due diligence, and research the integrity of the organization(s) prior to attending. If you have any questions or concerns, please contact our office.
Event Website
Share this page
Find related events by keyword