Joe Barth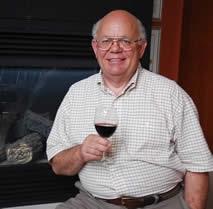 Associated Professor Emeritus
School of Hospitality, Food and Tourism Management
Office:
Macdonald Stewart Hall (MACS), Room 126
Find Related People by Keyword
Biography
Associate Professor (retired)
School of Hospitality, Food and Tourism Management
Phone number: ext. 56117
---
Recently retired, Professor Barth joined the faculty in 1989 after twenty years of food and beverage management experience with Howard Johnson's, the University of Guelph and Restauronics Services (now Compass Canada Ltd.).  He has taught beverage courses (beer, wine and spirits), service operations management and revenue management at the undergraduate and MBA levels.  He has supervised 29 graduate students, all of which completed their degrees. He has taught courses at Royal Roads University, the Cold Climate Oenology and Viticulture Institute (Brock University), MCI (Innsbruck) and for the Society of Management Accountants of Ontario. He has also taught hundreds of executives and mid-career professionals in management development programs over his thirty year career.  Joe has been a visiting professor at the Australian International Hotel School (Canberra) and at the Universidad de San Andres, Buenos Aires.
Joe has served as the MBA graduate program coordinator, Acting Director of the School of Hospitality, Food and Tourism Management, Associate Dean of the Faculty of Management and President of the University Club of Guelph. He has been a program evaluator for hospitality degree programs offered by Vancouver Island University and Humber College. Professor Barth has provided expert opinions in legal proceedings pertaining to licensed establishments and hotel contract law. He has also worked as a consultant on a great lakes freighter (Canada Steamship Lines), in Nicaragua, and Viet Nam.
Dr. Barth's personal research interests are in the area of pharmacologically active beverages (including beer, wine, spirits, coffee, tea and energy drinks), bundling, yield management, marketing, pricing and, of all things, pepper. Recent publications are about wine list inventory optimisation, wine label marketing, the efficiency of wine retailing. He has also co-authored journal and conference papers with his MBA graduate students about location models for the Ontario gaming industry, market segment profitability analysis, cruise line rating systems, automated telephone systems and special event promotions.  His most recent scholarly work is a book entitled, "Pepper: A guide to the World's Favourite Spice", to be released in February 2019.
BSc. University of Guelph
MBA Wilfrid Laurier University
MPS Cornell University
PhD Cornell University
Selected Publications
Barth, Joe (2019), Pepper:  A Guide to the World's Favourite Spice, Rowman & Littlefield, NY.
Barth, J. (2016), "Optimisation of Wine and Spirits Assets in Fine dining Restaurants, in Holistic Optimization Techniques in the Hospitality Tourism and Travel Industry, Pandian Vasant, ed., IGI Global Publishers, Hershey, P.A.
Barth, J. (2015), "The case for a return to the prevalence of written examinations in student evaluations", in Handbook of Teaching and Learning in Hospitality, Pierre Beckendorff and Anita Zehrer, eds, Edward Elgar Publishers, UK.
Elliott, S. and J. Barth (2014), "Chapter 7, Crafting Brand Stories for New World Wine", in Wine and Identity: Branding, Heritage, Terroir, Matthew Harvey, Leanne White and Warwick Frost, eds. Taylor and Francis Group, Routledge.
Barth, J.E. (2011) "A Model for Wine list and Wine Inventory Yield Management", International Journal of Hospitality Management, 30 (2011), pp. 701-707.
Elliot, S. And Barth, J. (2011) "Wine Label Design and Personality Preferences of Millennials", Journal of Product and Brand Management, inpress Volume 21, Spring/Summer '12.
Barth, J.E.(2007) "Customer Engagement and the Operational Efficiency of Wine Retail Stores", International Journal of Wine Business Research, Vol. 19 Issue 3.
Barth, J.E. and Vithala Rao (2002) "Application of a Balanced Satiation Model of Subset Utility to Meal Bundles", International Journal of Hospitality and Tourism Administration, Vol. 3, #4, pp. 25-41.
Sethawiwat, A. and J.E. Barth (2002), "The Impact of Special event Promotions in Full-Service Restaurants on Consumer's Purchase Intentions, Spending, Expectation of Service Quality and Purchase Risk", Journal of Foodservice Business Research, Vol 5, #3, pp.37-50.
Swain, R.A. and J.E. Barth (2002), "An Analysis of Cruise Ship Rating Guides", International Journal of Hospitality and Tourism Administration, Vol. 3, #4, pp. 43-60.
Barth, J.E. (2002), "Yield Management Opportunities for Private Club Management" International Journal of Contemporary Hospitality Management, Vol. 14 (3), pp. 136-141.
Conference Papers
Rohani,K.,  Shin Rohani, L., Kanetkar, V. and Barth, J. (2011),  "Clicking is Easier than Clipping:  A Proposed Model for Consumer Behaviour in Redeemable Coupons", ASAC 2011 Conference, Montreal.
Rohani,K.,  Shin Rohani, L., and Barth, J. (2011) "Theories of Emotion in Consumer Behavior", 33rd INFORMS Marketing Science Conference, June 9-11,  2011 Houston.
Barth, J.E (2006), "Customer Engagement and the Operational Efficiency of Wine Retail Stores", 13th International Conference on Recent Advances in Retailing and Consumer Services Sciences, (EIRASS) July 9th -12, 2006, Budapest.
Nasalski, S. and J.E. Barth (2005), "A Comparison of the Operational Efficiency of Old and New Style Winery Retail Stores", Tourism and Travel Research Association Conference, Kelowna, BC. Nov. 3-6, 2005.
Barth, J.E. (2003), "Proposal for a Balanced Satiation Model of Subset Utility for Vacation Product Bundling", CAUTHE 2003 Conference Proceedings, Coff's Harbour, Qld. Australia, Feb. 5-8, 2003.
Barth, J.E. (2002), "Bundling Strategies for Quick Service Restaurants", ASAC 2002 Conference Proceedings, Winnipeg, Manitoba , May 26, 2002 .
Rohani, K. and J.E. Barth (2002), "Guelph Super 8 Motel", case study presentation, 30th 2002 Conference, Winnipeg, Manitoba , May 26, 2002 .
Zhang, Y., J.E. Barth and W. Yang (2000), "Market Segment Profitability Analysis For Restaurants", ASAC-IFSAM 2000 Conference Proceedings, Montreal, PQ. July 8-11, 2000 , pp. 82-91.
Patterson, J., J. Walsh and J.E. Barth (2000), Global Graduate Management Education in Hospitality and Tourism: Planning and Implementing Strategies to Meet the Needs of Industry, 6th Annual Asia Pacific Tourism Association Annual Conference, June 28, 2000 , Prince of Songkla University, Phuket, Thailand , pp. 167- 173.
Barth, J.E. (1999), An Urgency Model of Reservation Price For Capacity Constrained Services, Joint 29th Annual Atlantic Schools of Business and 5th Annual Atlantic Canadian Operational Research Society Conference Proceedings, Oct. 21-23, Halifax. (CD-ROM: Folder: OR-OM, file: Barth, 11 pages.)
---
News
Featured articles