First Name: Bob
Last Name: Desautels
Job Title: President
Company: Neighbourhood Group of Companies
Hometown: Montreal, Quebec
Area of Study: Hospitality Food and Tourism
University of Guelph alumnus and award-winning restaurateur Bob Desautels was green long before green was hip. When he ventured into the restaurant and bar business in the 1970s, he started buying local and advocated respect for the environment. At the time, he was working in restaurants and hotels, including as manager of U of G's Faculty Club. Running his own restaurant was just a dream. "I started working the service industry when I was 14, and I always loved the idea of creating something of my own," he says. He turned that dream into reality when he founded the Neighbourhood Group of Companies, which operates the hugely successful gastro pub The Woolwich Arrow in Guelph – known affectionately as the "Wooly." With Desautels as CEO, the Neighbourhood Group also runs Borealis Grille & Bar and two upscale casual restaurants in Guelph and Kitchener.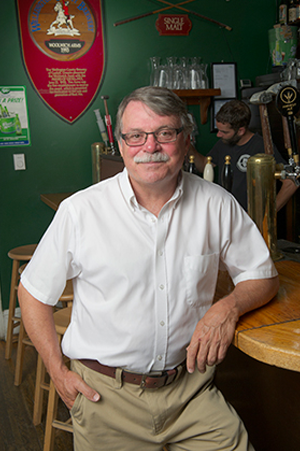 His restaurants are now green from farm to fork, with local and regional meats, beers, wine and produce on the menu. Water is heated with solar panels, electricity comes from green power, and food waste is used for composting. Desautels and his staff also spearhead local environmental initiatives such as neighbourhood cleanups and fundraising for Guelph's Speed River Project and the Grand River Conservation Authority. He won the Green Leadership Award from Canadian Foodservice and Hospitality . Among similar accolades, he earned a gold award from the Ontario Hostelry Institute for building the local food movement and championing environmental causes.
The restaurants are financially successful, too. The Wooly has gone from a few hundred thousand dollars in annual sales to more than $2 million this year. The Borealis restaurants, which opened in 2008 in Guelph and in 2011 in Kitchener, are showing a profit despite having opened during an economic downturn. But achieving that success has been a struggle. 
Desautels's story began here in Guelph, where he arrived in 1971 to attend university. "I wanted to study commerce and found out that Guelph had a hospitality school," says Desautels, who was born in Toronto and later lived in Ottawa and Montreal. Desautels was initially accepted to six universities across Canada. He loved Guelph's small town charm and sense of community, which was a stark contrast to the big cities of Montreal and Toronto where he had previously lived. However, Guelph's focus on food and hospitality ultimately drew him to the university. Desautels appreciated the blend of theory with practical learning that the HAFA major offered. However, he wasn't just focused on commerce, Desautels also explored courses in philosophy and went on to obtain a Masters degree in Philosophy.  
Shortly after completing his undergrad in 1974, Desautels took a break from the hospitality industry to play professional golf. "I had been at it since I was a kid." He spent a year on the Australian tour – made possible by his wife, Sue's, citizenship in that country – and then two years on the Canadian circuit. In 1981, he was hired by the then School of Hotel and Food Administration to write case studies for fourth-year courses: "Before I knew it, I was teaching eight different courses, from first to fourth year." During the next couple of years, he became a founding member of the Green Party of Canada and completed a master's degree in philosophy.
In 1984, Desautels opened his first restaurant, called La Maison. He sold it three years later and went back to teaching full-time. When his contract at U of G ended in 1991, he discovered his former restaurant was in trouble. He found a silent business partner in Jean-Pierre Schoch, a friend from his U of G days, and turned La Maison into the Wooly. They started with 12 craft beers on the menu – there are now 22 every day. Within a year, local game meats such as venison and bison showed up on the menu, along with local lamb. "People liked the local angle, they could taste the difference." Bitten by the "pub bug," he bought three more pubs and a hotel in Ontario. It was too much, too soon. "I was insane in those days; I didn't think I could do anything wrong." By 2000, Desautels had to pull back. He sold the other businesses and focused on the Wooly. He's handed over daily operations to his management team and staff, some of whom have worked with him for more than a decade. That team includes his son, Court, who is chief operating officer for the Neighbourhood Group, and his daughter, Emily, co-manager of the Wooly. She leads marketing efforts for new Taste of Ontario condiments that Desautels is creating. His team is also developing new local wines. "I always advised my family against going into this; it's a tough business, but it gets in your blood, I think."
"I wanted to attend a university that has a sense of community. Also, the city's committment to environmental sustainability and the university's focus on food is what drew me here."  – Bob Desautels