First Name: Roland
Last Name: Walton
Job Title: President (former)
Company: Tim Hortons
Hometown: Belleville, Ontario
Area of Study: Hospitality Food and Tourism
Roland Walton's career journey from Belleville, Ontario to President of one of Canada's most iconic brands, Tim Hortons, starts when he was a camp counsellor at a northern Ontario canoe camp. In addition to the leadership skills he learned at camp, Roland also had the unique experience of cooking for all of his fellow campers, during long canoe trips, by camp fire. This love for cooking lead him to chose a career path that always involved food. However, Roland wanted to learn the business side to the food industry first. This decision lead him to choose Guelph's Hospitality and Food Administration program (HAFA).
While he attended Guelph, Roland was exposed to all aspects of the food and restaurant industry over his four year program. He soon came to realize that the relationships that he made during his time at the University of Guelph would pay dividends later in his career. In addition to the applied learning opportunities he was afforded, Roland stated that his experience at Guelph allowed him to develop key social and personal skills that he would call upon later in life as the President and major food brands in Canada.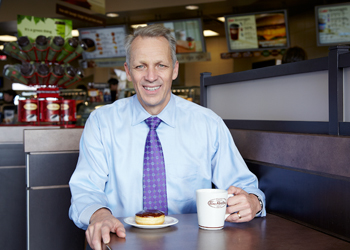 Roland fondly remembers Guelph's beautiful campus and the community feel it offered. He also remembers working as a bartender at Peter Clark Hall and playing marathon games of pinball at the "UC" during downtimes. 
After graduating from Guelph's HAFA program in 1978, Roland went on to work for Wendy's Restaurants Canada, Pizza Hut® Canada and Pizza Hut U.S.A. At every stop along his career, the companies he worked for always saw rapid growth in both franchise expansion and sales. This was evident during Roland's time as President of Tim Hortons. He joined Tim Hortons in 1997 as Executive Vice President of Operations, responsible for operations in both Canada and the U.S. and was appointed to Chief Operations Officer, Canada in March 2008. He was appointed President of Tim Hortons Canada in August 2012. During his 18 years at the restaurant franchise, Tim Hortons saw rapid expansion of over 2,000 stores across Canada and growth in annual revenue from $2 billion to $7 billion. 
For 20 years, Roland has been a member of the Board of Restaurants Canada (formerly Canadian Foodservice and Restaurant Association). For 10 years, he has served on the Executive Board and is now an Honorary Fellow of the Board.
Roland's advice to future Gryphons about to enter into the workforce is for graduates to match their values and interests with an organizations goals and vision. According to Roland, rather than taking the first job offer that comes your way, graduates should stay patient and be laser focused when planning their career path. A job is "more than just the salary and benefits. You need to analyze the company's culture and values and make sure it aligns with your own."
Over the years, Roland has graciously given back to the School of Hospitality, Food and Tourism Management. In 2013, Roland was the School's Executive-in-Residence, a program which brings industry leaders and prominent corporate executives on campus to enhance students learning and career development. 
You need to analyze the company's culture and values and make sure it aligns with your own." - Roland Walton