High School Business Pentathlon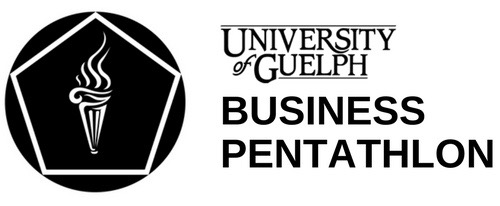 Sponsored by:

Want to try something new and experience business at U of G?
---
The University of Guelph's Business Pentathlon is a unique challenge designed specifically for Ontario high school students. You will compete in 5 fun and challenging business focused events, testing your business knowledge, communication and leadership skills.
The Pentathlon is run by a passionate group of senior level U of G business students, who want you to experience life at U of G.
Compete in five fun and challenging business events:

Biz Quiz is a comprehensive game show style activity, utilizing the methods and knowledge from our first-year business course. Students will be in groups of four answering key business questions to further their learning and prepare them for future success. Quiz topics will be provided in advance.
Sponsored by:


In groups of 4, students will be asked to analyze a case related to a specific ethical dilemma, using the people, planet and profit framework. Each team will then have the opportunity to present their findings to a panel of judges.
Sponsored by:


Students will be given an issue which they must solve by creating a new product and pitching it to the Gryphons'. Pre-work will be included for this event.
Sponsored by:


Business 4 Good will be an opportunity for high school students to gain knowledge about the different components of business while building their ability to solve the United Nations' Sustainable Development Goals (SDG) for 2025.
Sponsored by:


Students will work together to build a structure, and the tallest structure wins! Expect the unexpected!.
Sponsored by:

Event Details
---
When: May 9, 2019
Where: University of Guelph
Grades: This event is exclusively for students in grades 9 to 12.
Cost: $10 per student
Registration for 2019 Business Pentathlon is now closed.

Questions?
---
Contact Sara Reynen (sreynen@uoguelph.ca).
---
Overall
| | | |
| --- | --- | --- |
| | Junior | Senior |
| 1st | David Suzuki Secondary School (Team 26) | Holy Names Catholic High School (Team 48) |
| 2nd | Rick Hansen Secondary School (Team 7) | Assumption College School (Team 72) |
| 3rd | Guelph Collegiate Vocational Institute (Team 25) | Centennial C.V.I (Team 68) |
Biz Quiz
| | | |
| --- | --- | --- |
| | Junior | Senior |
| 1st | Centennial C.V.I (Team 12) | Rick Hansen Secondary School (Team 43) |
| 2nd | Pierre Elliott Trudeau High School (Team 19) | John F. Ross C.V.I (Team 39) |
| 3rd | William Lyon Mackenzie C.I (Team 10) | Guelph Collegiate Vocational Institute (Team 65) |
Gryph Tank
| | | |
| --- | --- | --- |
| | Junior | Senior |
| 1st | King's Christian Collegiate (Team 18) | Holy Names Catholic High School (Team 48) |
| 2nd | Pierre Elliot Trudeau High School (Team 19) | Holy Names Catholic High School (Team 64) |
| 3rd | Rick Hansen Secondary School (Team 7) | Heart Lake Secondary School (Team 58) |
Triple Bottom Line
| | | |
| --- | --- | --- |
| | Junior | Senior |
| 1st | David Suzuki Secondary School (Team 26) | Heart Lake Secondary School (Team 58) |
| 2nd | Craig Kielburger Secondary School (Team 3) | Guelph Collegiate Vocational Institute (Team 65) |
| 3rd | Guelph Collegiate Vocational Institute (Team 5) | Brampton Centennial Secondary School (Team 32) |
Team Building
| | | |
| --- | --- | --- |
| | Junior | Senior |
| 1st | John Polanyi Collegiate Institute (Team 24) | Assumption College School (Team 72) |
| 2nd | Rick Hansen Secondary School (Team 23) | Centennial C.V.I (Team 68) |
| 3rd | Guelph Collegiate Vocational Institute (Team 25) | Assumption College School (Team 50) |
Business 4 Good
| | | |
| --- | --- | --- |
| | Junior | Senior |
| 1st | William Lyon Mackenzie C.I (Team 10) | Holy Names Catholic High School (Team 48) |
| 2nd | David Suzuki Secondary School (Team 4) | Rick Hansen Secondary School (Team 43) |
| 3rd | Centennial C.V.I (Team 12) | King's Christian Collegiate (Team 62) |
Overall
| | | |
| --- | --- | --- |
| | Junior | Senior |
| 1st | Rick Hansen Secondary School | W.L. Mackenzie C.I |
| 2nd | John F. Ross CVI | Guelph Collegiate Vocational Institute |
| 3rd | Pierre Elliott Trudeau High School | King's Christian College |
Business Bonanza
| | | |
| --- | --- | --- |
| | Junior | Senior |
| 1st | John F. Ross C.V.I | Assumption College School |
| 2nd | Craig Kielburger Secondary School | Guelph Collegiate Vocational Institute |
| 3rd | St. Paul Secondary School | King's Christian College |
BizBuzz
| | | |
| --- | --- | --- |
| | Junior | Senior |
| 1st | Rick Hansen Secondary School | Pierre Elliott Trudeau High School |
| 2nd | Craig Kielburger Secondary School | W.L. Mackenzie C.I |
| 3rd | Guelph Collegiate Vocational Institute | Centennial C.V.I |
Triple Bottom Line
| | | |
| --- | --- | --- |
| | Junior | Senior |
| 1st | Rick Hansen Secondary School | Assumption College School |
| 2nd | Guelph Collegiate Vocational Institute | King's Christian College |
| 3rd | S. Mary's High School | W.L. Mackenzie C.I. |
Gryphons' Den
| | | |
| --- | --- | --- |
| | Junior | Senior |
| 1st | Rick Hansen Secondary School | King's Christian Collegiate |
| 2nd | Holy Trinity Catholic High School | Jacob Hespeler Secondary School |
| 3rd | The York School | Assumption College School |
Business 101
| | | |
| --- | --- | --- |
| | Junior | Senior |
| 1st | John F. Ross CVI | Guelph Collegiate Vocational Institute |
| 2nd | Rick Hansen Secondary School | W.L. Mackenzie C.I. |
| 3rd | Craig Kielburger Secondary School | King's Christian Collegiate |