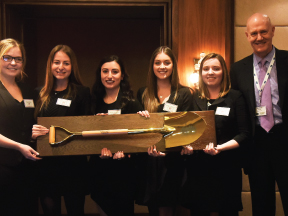 Allied Properties REIT is a title sponsor of Lang's annual Undergraduate Real Estate Case Competition in which students create a development plan for a real, iconic property in the Ontario real estate market. The support from Allied Properties allows the student-run case competition to provide a first-class educational experience for all competitors. In 2017, Michael Emory, President and CEO of Allied Properties (pictured in photo) was the keynote speaker at the competition. Allied Properties REIT is a leading owner, manager and developer of urban office environments.
More information on the Undergraduate Real Estate Case Competition
The Toronto based financial consulting group provides students enrolled in Lang's Executive Programs (MBA and MA Leadership programs) with two scholarship opportunities. Recipients of each scholarships are selected on the basis of exemplary community contributions and volunteerism that goes beyond the requirements of their role, such as extra-curricular activities, participating on a Board of Directors, committees, sports teams etc. Students entering the MBA (Sustainability, Hospitality and Tourism Management or Agribusiness) program or MA Leadership program who have demonstrated leadership growth in extra-curricular activities are encouraged to apply.