Registration Guide for New Students 2018
The Registration Guide for New Students will help you prepare for your first semester as a University of Guelph student. It includes details about how to select courses and pay your fees, and who to contact with your questions.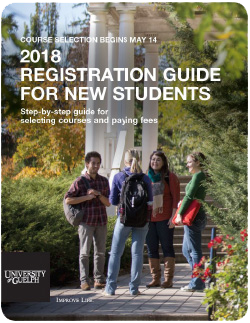 For your convenience the Registration Guide for New Students is also available in PDF format (7.4 MB).
Select your courses for the fall!
New students can select their courses from May 14, 2018, to September 14, 2018. You should consult the Program Information pages to determine what courses you should select for your first semester. For instructions on selecting courses in WebAdvisor, take a look at the WebAdvisor tutorial.
Important resources for new students
University of Guelph Undergraduate Calendar: The Undergraduate Calendar contains important information for U of G students, including regulations and procedures, a schedule of dates, course descriptions and details about fees.
Student ID Card Information: Instructions on how to submit a photo for your student ID card and information about picking up your ID card, with details about the required documentation that you must bring when picking up your card.
STARTonline.ca is your guide to starting university. We have everything you need:
Your Summer To-Do List
Summer Events
Facebook Groups by Program
Orientation Week Information
Online Chat with Upper Year Students
Posts About Everything Related to Becoming a Gryphon
Log in now to get connected to current and other incoming students.
International Student Support: Take a look at Student Life's extensive resources for international students.
Undergraduate Academic Information Centre (UAIC): UAIC is a resource centre that provides general academic information to undergraduate students and refers undergraduate students to other campus resources as appropriate. Looking for Program Counsellor or Faculty Advisor contact information? Visit the UAIC website!
IT Support at the University: Computing & Communications Services (CCS) provides core IT support to the campus community – this includes your email account. Visit the CCS website for information about your Central Login username and password. U of G students can also get free or discounted software through the CCS software distribution site.