University of Guelph driving innovation and business success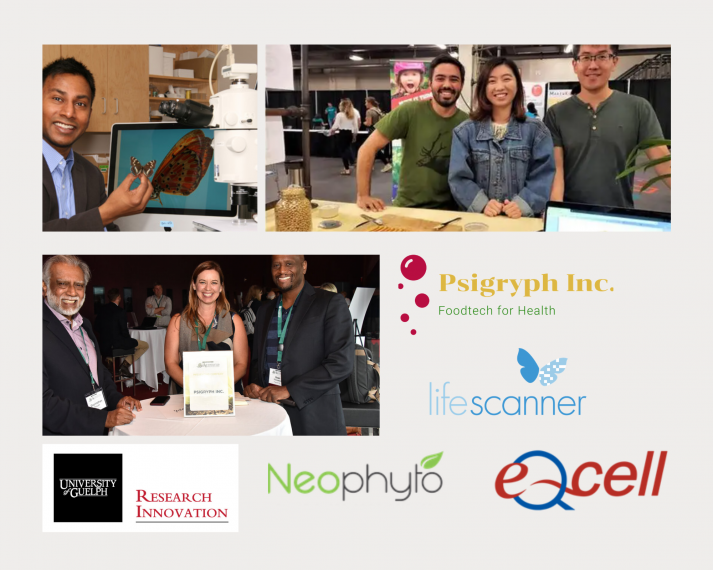 The University of Guelph's Research Innovation Office's (RIO) programming and services really paid off in 2020 when several companies that were either developed or assisted through the office reached new heights in terms of discoveries, investments and revenues. Here are just some of the thriving businesses that were #CreatedatGuelph:
Serial entrepreneur helps found company that's combatting COVID-19
The training and skills Sujeevan Ratnasingham received from RIO to launch his first company, LifeScanner, gave him a huge advantage when it came time to co-found Multiplex Genomics, which has partnered with Life Labs to develop high-volume testing for COVID-19 and its variants. Using expertise in biodiversity science, DNA sequencing, and informatics, the new company is at the forefront of the fight to detect and defeat the virus. Multiplex Genomics is planning to scale up and address additional pathogens over the longer term.
Neophyto Foods brings plant-based products to all Canadians
Neophyto Foods won the People's Choice Award at the 2020 Gryphon LAAIR Pitch Competition and it's no wonder. The company makes tasty, wholesome plant-based products that are available online and in stores across Canada. Its unique Neokit, a simple set of ingredients that makes the equivalent of one pound of ground meat, is flying off the shelves. Jane Ong, one of the company's founders, was recently accepted into the PhD program at UC Davis in California.
Digitrack on track for success
When the Accelerator Guelph program and the Waterloo Accelerator Centre work together, great things happen, like Digitrack. This company was started using the agri-food expertise of the Guelph program and was accepted into the Waterloo program to further develop the digital side of the business.
Digitrack's cloud-based software connects manufacturers, distributors, and merchants of products in the food and agricultural industries to help make food and pharmaceutical recalls faster and more effective. The concept includes a novel visual tracking network to find all the distributed and recalled product.
Psigryph puts the cherry on top of a year of strong growth
Psigryph's roots at the University of Guelph and the hard work of its founders have attracted global attention and, more importantly, substantial investment.
Psigryph uses nanotechnology to efficiently deliver bioactive molecules to living cells. Derived from Montmorency sour cherries, the technology is all natural, biodegradable and safe for human and animal consumption. That's why it has promising applications in environmentally sound crop protection, pharmaceuticals, food and beverage, human and animal nutrition and more.
eQcell Inc. off to the races
eQcell was a contestant in the 2019 Gryphon's LAAIR Pitch Showcase and Pitch Competition. It, too, is attracting a lot of interested investors and is starting to scale up as a result.
Using cutting edge stem cell therapies, the eQcell process gives veterinarians and trainers options for relieving pain and suffering in their equine animals in cases where current remedies are not very effective or non-existent. The technology may have human applications in the future.
eQcell's novel regenerative stem cells are designed to relieve pain and suffering in, and to restore full mobility to, animals afflicted with conditions, such as osteoarthritis, causing lameness. Restoring function is of equal importance to owners, emotionally and financially.
---
Don't forget to register for the 2021 Gryphon's LAAIR pitch competition event starting on May 10. Register today!
Share this page
Find related news by keyword