About the Central Animal Facility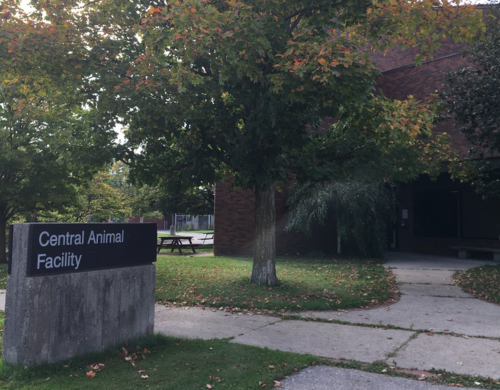 The Central Animal Facility (CAF) was opened in 1973 to provide a centralized housing and technical support facility for researchers in departments across the University. The holding rooms in the CAF are multi-purpose and designed to be flexible, depending on the needs of the various animals and research paradigms.
An orientation to the facility is required prior to access being granted, please consult the Animal Care Services website for registration. In addition to the orientation, all persons requiring access to the CAF must have completed the Core modules and be listed on an Animal Utilization Protocol. To request access for a student or staff member, the Principle Investigator must complete the request for access form.
Cost of Animal Accommodation
Questions can be addressed to Mary Fowler at mafowler@uoguelph.ca or by calling the office at x54304 or 519-835-0071
Acquisition, Cost and Purchasing of Animals
All requests for animal purchase and housing accommodations must be completed through use of the Electronic CAF Request Form. Once completed with electronic signatures, orders must be emailed to the caf@uogelph.ca account. CAF Animal Request Form. Depending on the request species, orders must be received at least 1 week prior (rodent), 21 days prior (poultry) and 1 month prior (cats, dogs, other) to the required delivery date. For repetitive rodent purchases, a shortened form may be supplied by the CAF Research Animal Coordinator. These forms are specific to the research team, AUP and grant coding.
If animals are to be transferred between research teams, within the CAF, a transfer form can be used. Once complete by both the source and receiving research teams, the form can be sent to caf@uoguelph.ca. Please allow at least 48 hours for these transfers to be processed. Once complete, all parties will be notified and CAF staff will assist in coordinating the move of the animals. The receiving CAF request number must be currently active, if not, the full Electronic CAF Request form will need to be completed.
Often animals are imported and exported from/to the University of Guelph. To begin this process, an Electronic CAF Request Form must be completed and sent to caf@uoguelph.ca. Any imports require a completed mouse passport and health records from the source facility, the CAF Research Animal Coordinator can facilitate gathering this information.
For assistance or pricing inquiries; please contact Charly McKenna (caf@uoguelph.ca), x54311
Surgery and Procedure Rooms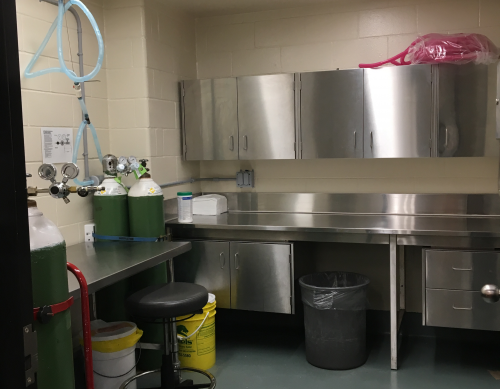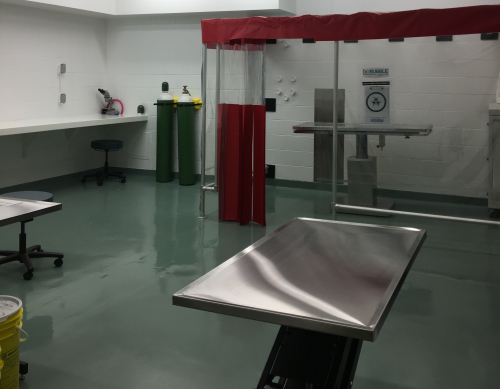 The CAF has 5 surgical bays, including one negative bioBubble. These spaces are bookable online allowing all researchers ease of access to the facilities they need. In addition to the surgical spaces, the CAF also has several other bookable procedure spaces. The surgery and procedure rooms are free of charge to all researchers in the CAF. To book these spaces, please email caftech@uoguelph.ca for further details.
Wet Labs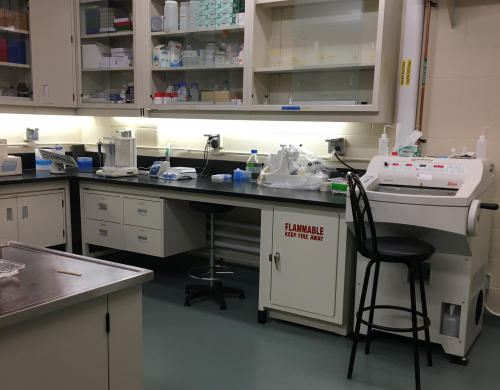 The CAF has two fully functional wet lab spaces which include fume hoods, cryostats and various piece of laboratory equipment. This space is available to all researchers in the CAF at no additional charge. The researchers provide their own consumables.
Meeting/Seminar Rooms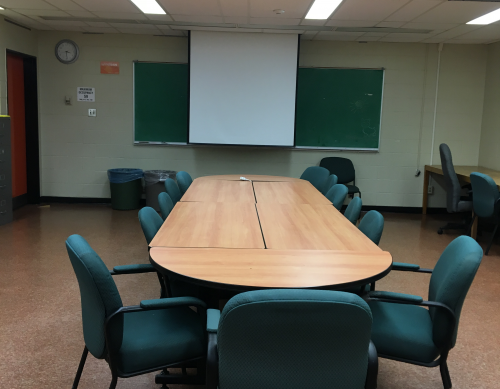 Room 108 is bookable for lab meeting, small seminars, research presentations, etc. To book this space please email caftech@uoguelph.ca for further details.
Cage Washing Facility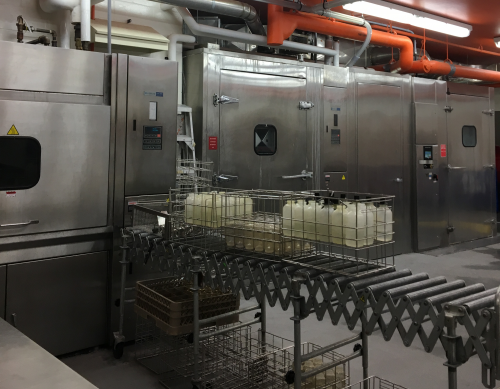 All caging in the CAF is routinely cleaned through large mechanical washer. These washers are the heart of the biosecurity in the facility. Custom cage cleaning services are available to any department at the University for a nominal charge. Contact Annette Morrison at amorriso@uoguelph.ca.
Pre-Research Consultation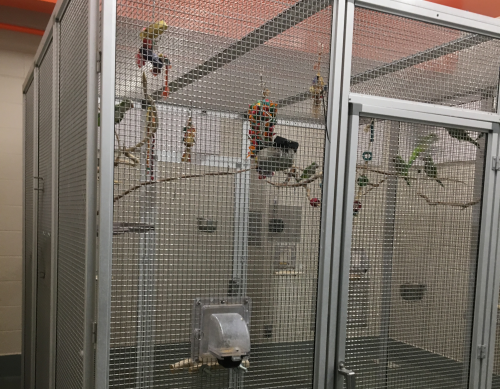 Before any new research project, a meeting will take place to ensure that all staff understand the desired research outcomes and expectations of the researchers. This important process sets the stage for excellent communication between the staff and the researcher throughout the research project. Please book this appointment with Mary Fowler (mafowler@uoguelph.ca) and/or Annette Morrison (amorriso@uoguelph.ca).
Veterinary Services
Our veterinary care team is responsible for the health and well-being of animals housed in the CAF and will provide diagnostic services and treatment advice for animal health concerns. Our veterinarians will provide pre-research consultation to assist investigators determine the most appropriate methods to conduct the various procedures required. They can be reached via email at: acs@uoguelph.ca.
Veterinary Technical Support
Investigators can obtain assistance from the highly skilled CAF technicians to carry out:
Tissue collection,
Blood collection,
Injections,
Minor Surgical Manipulations,
Administration of Analgesics and
Anesthesia,
etc.
Please email the Technical Office at caftech@uoguelph.ca.
Animal Surveillance Technician (AST) Services
After hour technical support and surveillance of all facilities is provided through the CAF for all Campus Animal Facilities. This valuable service is available between 11:00PM and 5:30AM. The AST rotates between all the facilities to ensure that animals are not in distress and that the mechanical operation of the animal facility is in good working order and that the animal quarters are secure. The AST's will administer medications and assess health assessments through prior arrangements via the Technical Office at caftech@uoguelph.ca or by contacting Mary Fowler at 519-835-0071 after hours.
Volunteer Dog Walking and Rat Socializing Programs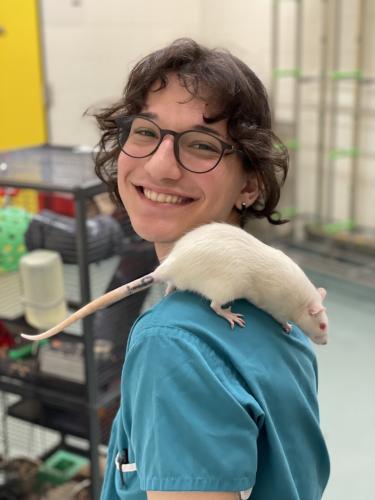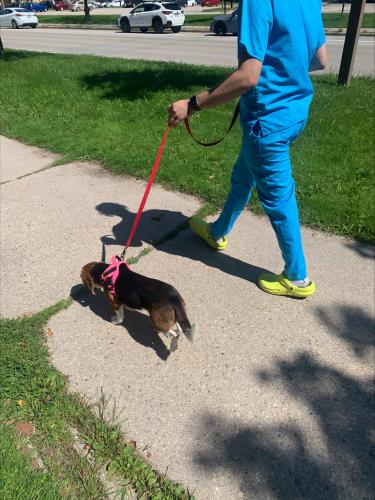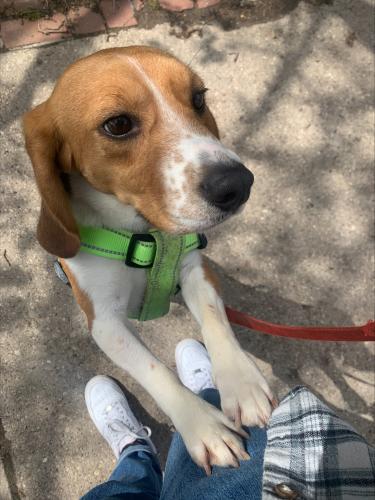 General Information on Volunteering
Volunteers will be required to complete the mandatory online training modules through Animal Care Services, Animal User Training Program. Registration and completion of the online training can be done once you are accepted as a volunteer.
Volunteer hours are flexible but must be between the hours of 8:30am - 3:30pm - Monday to Friday
A volunteer waiver will need to be completed and signed.
There will be exposure to dust, dander, feces and urine, a small risk of scratches and bites.
Teaching Rats Socialization Program
We have a small colony of 8-12 teaching rats that are used in the Animal Care Services, Animal User Training program.  Volunteers will engage in socialization and habituation of the teaching rats through handling, play, and providing novel enrichment. Minimum commitment of 1 hour per week.
Contact - Michaela Randall, mranda02@uoguelph.ca
OVC Teaching Beagles Walking/Socialization Program
Volunteers will participate in socializing and walking the Beagles, either indoors using our socializing room or outdoor on leash walks and/or in our outdoor exercise pen.  They can participate in training the dogs in basic commands and good manners.  You will be providing very positive enrichment for the dogs and yourself!  They are keen to give lots of love.  All dogs are adopted out to homes at the end of the academic year.
Contact - Michelle Pitre, mpitre@uoguelph.ca
---
Other volunteer opportunities may arise so feel free to reach out to our general CAF Technician email account to inquire - caftech@uoguelph.ca