CEPS Grad Students Receive $70,000 from Vector Institute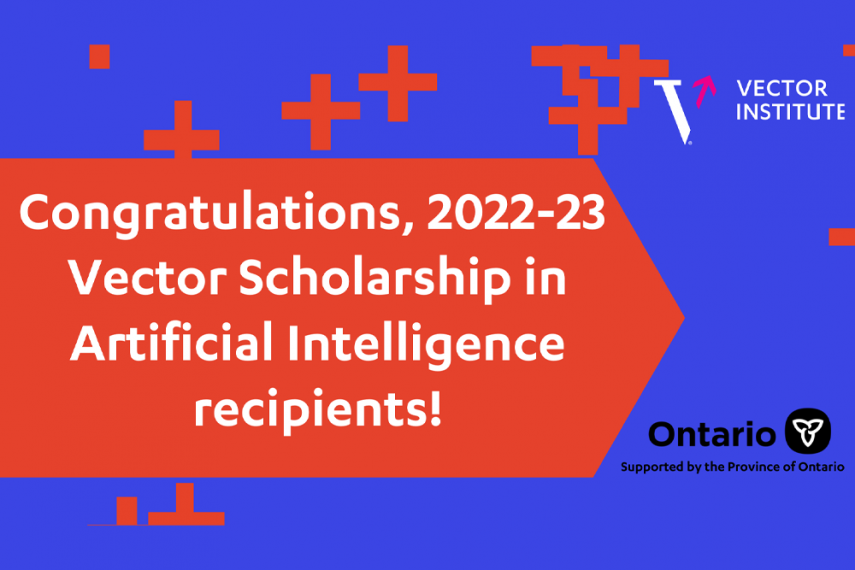 Four University of Guelph (U of G) students in the College of Engineering and Physical Sciences (CEPS) will receive Vector Scholarships in Artificial Intelligence, valued at $17,500 each, as they embark on master's degrees at U of G in Fall 2022.
The merit-based entrance scholarships are awarded to top-tier applicants entering Vector-recognized master's programs in Ontario, studying AI-related topics ranging from engineering to computing or informatics, among others.
Students meeting application criteria and entering eligible Ontario-based AI master's program can apply for these scholarships from the Vector Institute for AI (Vector), a Toronto-based organization dedicated to advancing AI research in Canada. 
Scholarships are awarded either through preallocation or an open competition process, with nominations from 14 universities and 48 programs across the province.
This year in CEPS, three scholarships were received by incoming Master of Data Science students: Somaye Ahangar Saryazdi, Adam Green, and Hauwa Umar. One was received by a Collaborative Specialization in AI student, Anton Naim Ibrahim. All four were awarded from open competition.
Both the Master of Data Science and Collaborative Specialization in AI are Vector-recognized programs, meaning that they have been found by Vector to equip graduates with AI skills and competencies sought by industry.
"Our success rate in the open competition demonstrates the level of talent selecting U of G to further their AI studies," says Dr. Graham Taylor, academic co-director for the Centre for Advancing Responsible and Ethical Artificial Intelligence (CARE-AI) and program director for CSAI. "U of G's growing suite of AI-related academic programs and CARE-AI, along with our interdisciplinary AI faculty experts, bolster our ability to attract and retain these stellar students."
Alongside the financial award, recipients will have access to Vector's Digital Talent Hub, career development and networking events, and AI-specific career support programs.
Learn about the scholarship recipients
Somaye Ahangar Saryazdi
Master of Data Science
"Machine learning holds great potential for national statistical organizations (NSOs) by automating certain processes or assisting humans to do processes. It allows NSO to use new data sources. My current goals of applying big data sources using machine learning techniques inspired me to pursue my studies in the Data Science program. It allows me to gain a better understanding of the added value of AI techniques in NSO by improving accuracy and reliability."
---
Adam Green
Master of Data Science
"My primary motivation for pursuing an education in artificial intelligence is the immense potential and diversity of possible applications for the technology. My professional interests span the fields of healthcare, finance and sport. Education in AI allows me to transition throughout these fields to tackle innovative projects across personalized healthcare, predictive stock analytics and improved sport safety through data harvesting. From an industry perspective, as significant growth occurs in decentralized applications, AI will be a primary tool in expanding the field further."
---
Anton Naim Ibrahim
Collaborative Specialization in AI
"During my later years of undergraduate studies, I have placed a great emphasis on AI and related fields, both by taking relevant courses, such as data science and computational intelligence courses, and through work experience. In the future, I see myself working in industry, with my career centered around artificial intelligence and software development. I have seen the impact and the excitement that AI brings to a variety of industries, through both my education and work experience, and I have decided that I would like to be a contributor in this exciting field of research."
---
Hauwa Umar
Master of Data Science
"I pride myself on being a life-long learner. I have taken online courses to further my data skills in data visualization, descriptive and inferential statistics, and machine learning and plan to take more soon. Having troves of data contextualized by machine learning algorithms to help company decision-makers understand their business better and make informed decisions is something I find interesting and would like to pursue as a career."