Distinguished Professor Awards 2020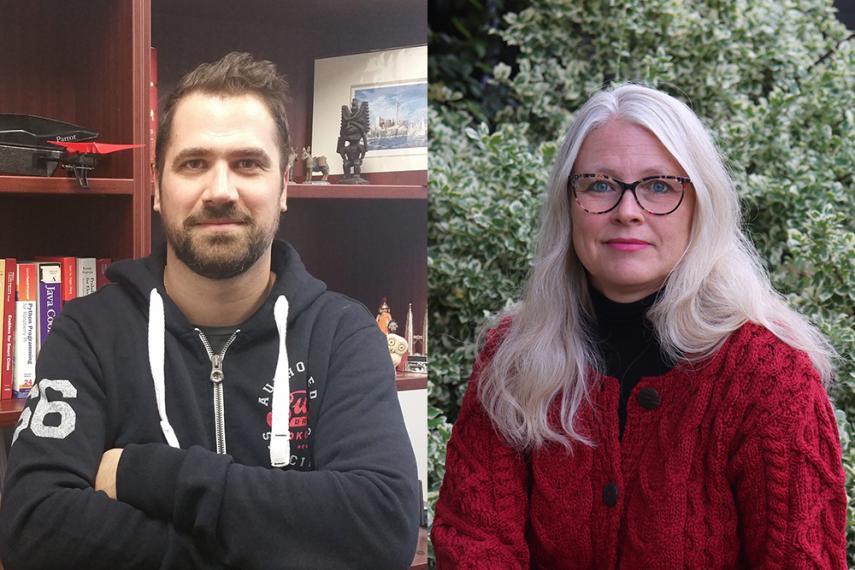 Each year, the University of Guelph Faculty Association presents outstanding faculty from each of the seven colleges with Distinguished Professor Awards for Excellence in Teaching, and reserves two Distinguished Professor Awards for Innovation in Teaching for faculty across U of G. The College of Engineering and Physical Sciences is pleased to announce that Petros Spachos, associate professor in the School of Engineering, is the 2020 CEPS recipient of the Excellence in Teaching Award. Andrea Bradford, associate professor in the School of Engineering, has received one of two Innovation in Teaching Awards.
The awards are intended to recognize excellence in teaching and learning across categories that include classroom instruction, thesis supervision, course design, curriculum development, educational materials production, development of innovative teaching methods, and educational planning and policymaking.
"I enjoy teaching and consider it an essential part of a successful academic career," says Spachos. "To me, the most important part of teaching is to keep students engaged during a lecture. Not only do I want to maximize their learning experience while at the University of Guelph, but I also want to encourage the development of future teachers and researchers." 
Spachos keeps his teaching best practice current by attending seminars and other professional development opportunities. He also seeks feedback from colleagues and students to adapt his methods for maximum engagement.
"I feel that a little humour, injected at the right moment, can also go a long way toward maintaining a high level of student interest!"
Spachos's research interests play a key role in his teaching approach as well. He builds enthusiasm in the classroom by bringing his passion for his own research— Wireless Sensor Networks—to the classroom. He aims to show students how they can delve into their own areas of interest during their education. 
"A simple 'thank you' or 'your course was really useful' that students will tell me two or three years after they graduate is just an amazing feeling," says Spachos.
He acknowledges that teaching and learning in the context of the 2019 Novel Coronavirus has some hurdles. Spachos looks to online platforms with unique teaching tools such as polls, whiteboards, and icebreakers that allow him to connect with students from a distance.
---
"I am interested in engineering for social justice and better addressing equity, diversity, and inclusivity with curricular and co-curricular activities for engineering students at the University of Guelph," says Bradford, who launched the Gryphon Wing Ceremony last fall.
Bradford sets high expectations for students, but also provides them with the support needed to learn and grow. She focuses on fostering deeper learning approaches among students through aligning learning objectives, content, and the class environment with unique approaches. In her Water Management course (ENG*2550), for example, students share stories that reflect their connection to water—an approach featured in the OSPE Change the World campaign. And, in Winter 2017, a "Middle Earth" project with the class saw students taking on character roles from Lord of the Rings to protect the River Anduin. In Winter 2019, the project occurred with characters and lands from Games of Thrones.
"There can be challenges along the way, but it's so rewarding at the end of classes like Urban Water Systems Design or a capstone design project to see the quality of work students have produced."
Bradford encourages compassion for faculty and students during COVID-19.
"We cannot forget that students on the other side of the world are attending our synchronous classes. It is really tough for students to engage with course content on a screen hour after hour, so it's important to build in socialization opportunities," she says. "I'm finding that I need to focus on how much I've learned since April, rather than how much I have yet to learn about teaching in a virtual environment. My goal is to learn one new tool to enhance student participation every week this term."