Student Testimonials
---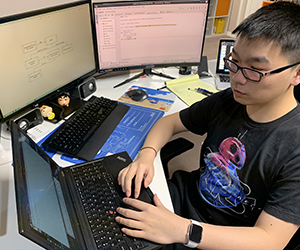 Chenxingyu (Alex) Chen
Master of Cybersecurity and Threat Intelligence (MCTI)
During my last semester as an undergraduate student majoring in computer science, the University of Guelph launched this new master's program in cybersecurity, which was good timing – I was deciding between entering the workforce and continuing my education. After learning that this the MCTI program is the only one of its kind in Canada, and with how supportive the faculty are, made me have no doubt about doing my graduate studies at Guelph. I like that the program is one-year and provides the opportunity to work with industry partners. We spend the first two semesters in practical courses (cybersecurity, digital forensic, cyber threats, human privacy, and more), all directly related to my field and the skills I need to work in cybersecurity. We also have access to the state-of-the-art cybersecurity tools, and we analyze malwares around the world. I'll then spend my final semester in a work placement, allowing me to apply concepts to the real-world and connect with potential employers.
---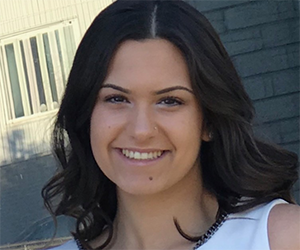 Melanie Hudakoc
Bachelor of Science (Physics major, Mathematical Science minor), 4th year
When I visited Guelph, I immediately fell in love with the campus. The people, the atmosphere, the food. My love for physics wasn't as sudden. I started in a different program and hesitantly took a first-year physics for the biological sciences course. It sparked my drive to understand the world around me through this discipline. I switched majors and haven't looked back. I've also developed a passion for science communication and physics education research. I strongly believe that undergrad should be used as a time to discover your passions and explore different things, and the University of Guelph gave me the support to do that.
---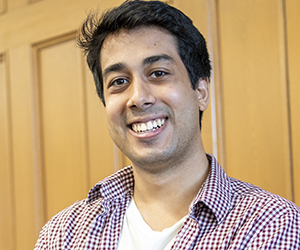 Sooraj Modi
Bachelor of Computing General (Computer Science), 4th year
When I was first applying to University programs, I wasn't sure what I wanted to do or where I wanted to go. I knew I liked working on problems, so I picked Computer Science since those skillsets aligned with my interests. I'm so glad I did – the degree has been such a great experience for me. I came in not knowing anything about computer science, and now I've interned with Bell and am learning about things like artificial intelligence. The sense of community is also phenomenal – every week we're running community events and technical events. Everyone here – faculty and staff – want you to succeed. I've really valued this experience and grown from it.