Hear from our students on International Women's Day
On March 8th, the world celebrates International Women's Day. On this day, we celebrate the achievements of women and raise awareness about women's equality on a global scale. Today is the time to reflect on progress made in the world, to call for changes and to celebrate the courage and determination of women. Similarly, women in computing are furthering innovation across the globe as more women technologists are emerging in the field of STEM. Here, at the School of Computer Science, we are always working towards creating opportunities for young women in our programs and we want to continue to showcase strong work and commitment from some of our students in Bachelor of Computing. 
Maddie, 5th-year Software Engineering and co-leader of Guelph Women in Computer Science (GWiCS)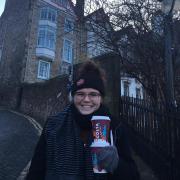 My journey at the University of Guelph begin when I joined the Math program. I had zero coding experience and never thought of Computer Science as an option for me. I took CIS*1500 as an elective and knew that I wanted to switch to Software Engineering.
When I was first learning to code, I remember being filled with self-doubt on any problem that I faced and couldn't solve. I think this is a common obstacle, particularly for women in STEM fields. My attitude towards challenges these days leaves room for more curiosity and less room to be afraid of failing. My advice to anyone new to the School of Computer Science would be that join student clubs. There are tons of tech-related events, conferences and hackathons that are hosted by U of G and many that are beyond U of G.
 I have personally participated in and enjoyed Hack the North, Elle Hacks, Hack Harvard and Can CWiC. In my opinion, these types of events offer a great chance to learn new skills, increases involvement in various projects and gives you a chance to make friends in the field outside of your school.
Julia, Software Engineering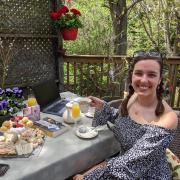 My love of Computer Science started at the University of Guelph at U of G's Creative Encounters: Game Design Camp. That week we didn't only learn how to make video games, but we also had conversations about computers. All in all, that week at camp sparked my love of Computer Science. This passion for Computer Science grew more as I entered high school, where I enrolled in CS classes every year. By the time I was applying to universities, my path of choice was a no-brainer; to study what I loved at the place where that love began. And that's how I ended up at the University of Guelph Software Engineering program!
Computer Science is a male-dominated field that I entered at a young age, and as such, the gender imbalance became almost a norm for me. It wasn't until I entered University and had non-male classmates for a change that I saw the challenges associated with being an underrepresented gender in the field. By then, I had joined the Guelph Women in Computer Science club (GWiCS) and had forged a community of friends and allies to support me and help me overcome any such challenges. Being part of GWiCS had provided me with the opportunity to participate in various competitions, conferences, and events such as the Next Great Innovator Hackathon, Canadian Celebration of Women in Computing Conference. Recently, I was also awarded Adknown Inc. Scholarship for my academic achievement, leadership, innovation, and volunteerism through my role as an executive member of GWiCS.
 My advice to the new women entering the field of Computer Science is that find a community of similarly-situated individuals, like GWiCS, to attend conferences that celebrate women, like CAN-CWiC and hackathons that help build up your community of women colleagues, like the Next Great Innovator Hackathon and Elle hacks.
Aysu, 5th-year Computer Science (Co-op)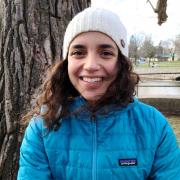 My path to Computer Science was not the most traditional. There was a lot of luck involved. I am an international student and we didn't have any Computer Science courses ay my high school in Turkey. I chose the Computer Science program mainly because I had always been good at math, and I wanted to learn all about computers.
At Guelph, I've won the Sandbox Software Solutions Scholarship twice, which is awarded to the female student from the School of Computer Science with the highest average. I've also won the Dr James Linders Scholarship this year, which is awarded to the student with the highest average in the core 3rd year CIS courses. Computer Science is a male-dominated field, but I can't say had that many bad experiences in school or during my internships. Although I found that the community at Guelph is not necessarily hostile against women, it is discouraging to walk into a classroom or office and not see many women besides a few. A way to overcome these feelings for me has been to tell myself that I am more than qualified to be where I am. Sometimes I believe it, sometimes I don't, but it always works to give me a confidence boost and helps me feel at home. And of course, the Guelph Women in Computer Science club has been a great resource to meet and connect with other women in the program.
Anemmeabasi, 4th-year Software Engineering (Co-op)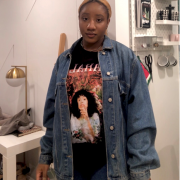 My journey to entering Computer Science was not easy. There was a lot more to learn than just HTML, which took me by surprise the first time. As the years went on, being in this field made more and more sense. I could not picture myself anywhere else. One of the many opportunities being in this field brought me and allowed me to enjoy is being part of various hackathons. I had always felt that my voice wasn't being heard and I was always hesitant to speak up.
The first hackathon I ever went to was Elle Hacks, an all-female hackathon at York University. It was the best experience I could have ever wished for because everyone there was like me, everyone who identified as a female. I didn't feel like I had to shrink myself anymore. Everyone was open there and everyone listened. So, the next time I went to a hackathon that was open to all genders, having that solid foundation allowed me to let myself be heard and my work to shine. Since then, whenever I feel like I do not belong in this male-dominated field, I remember what I felt like the first time I walked into the event, I remind myself that I am right where I need to be. I couldn't even imagine myself doing anything else.                                                                          
Mary, 4th-year Software Engineering and co-leader of GWiCS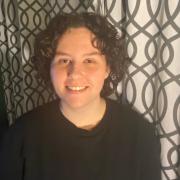 My journey into Computer Science started in High School where I was one of the 2 girls in the class. I was nervous to take the class, I didn't know anyone in it and I had no experience with programming. In class, I kind of had to prove that I belonged there and gain the trust and respect of my male peers. I quickly realized that I enjoyed programming, but I didn't enjoy feeling like an outsider. I began encouraging other girls in my school to take Computer Science and in my Grade 12 year I was in a class with 8 other girls.
Coming to Guelph I saw the same ratio I did in High School, but I quickly found other girls in my program. It was so great to have a group of friends that understood what it was like to be in a male-dominated program and having that support made the transition to university so much easier. GWiCS came to fruition when I was in the second semester of my first year. Coming together at events, meetings, and workshops strengthened the sense of community where I didn't think I would have one.
I would encourage other women to find a community that supports and understands them. Be fearless in the things that you do, you'll make mistakes and things won't always work out as you expected them to, but if you let those things hold you back, you'll never know what could have been!
College of Engineering and Physical Sciences released an article on a recent School of Computer Science graduate and her work with D2L for International Women's Day. Read the full article at Art, Science and Creating Experiences