Computer Science Student Dar'ya Heyko Wins Katherine Elliott Graduate Scholarship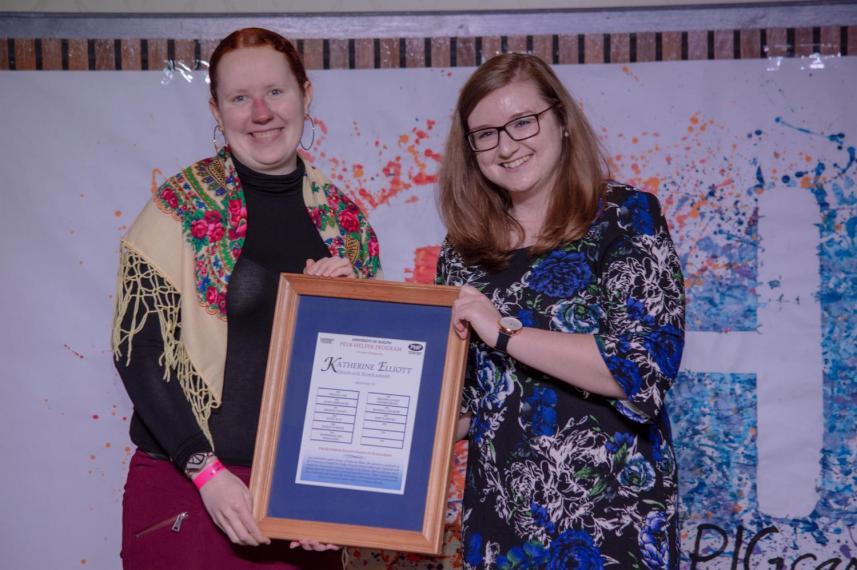 Congratulations to School of Computer Science student Dar'ya Heyko who was named the recipient of this year's Katherine Elliott Scholarship. The Graduate Scholarship was established to honour Katherine Elliott who served as coordinator of the University of Guelph Peer Helper Program between 1988 and 1991. It is presented annually to a Peer Helper in good standing, who is achieving well scholastically and intends to pursue postgraduate work toward a career in the Student Services field or one of the helping professions (Social Work, Teaching, Counselling, Theology, Medicine etc.).
The Katherine Elliott Scholarship was presented to Dar'ya at the Peer Helper Banquet on March 22nd for her academic achievements and making a difference in her community as a Peer Helper. Dar'ya coordinated a record number of event requests this year, and even presented a resume workshop on crutches with a broken foot! Dar'ya has also shown commitment and initiative in her academic pursuits, particularly as they relate to post-graduate degree plans, which includes pursuing her Master's Degree in Human Computer Interaction last this year.
Congratulations Dar'ya! Well deserved!