Computer Science Students Win Transforming Tomorrow Challenge at Hackathon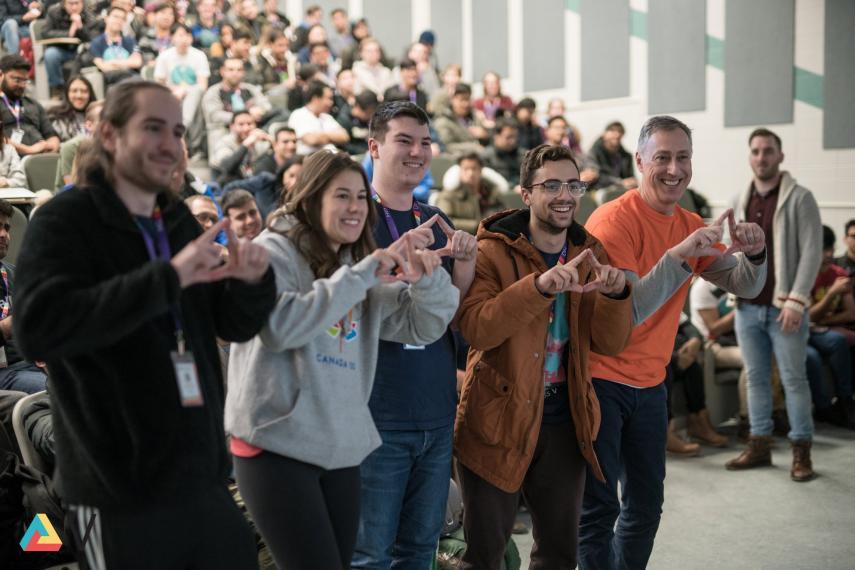 School of Computer Science students Marshall Asch, Lindsay Elliott, Devon Miller and Lucas Giancola won the ArcelorMittal Dofasco - Transforming Tomorrow Challenge at Delta Hacks over the weekend over January 26-27th at McMaster University. Delta Hacks is McMaster's annual student hackathon that encourage students in all fields of study to come together to build real world applications that solve real world problems using technology and innovation.
The Guelph team built an Android application, named Möle, that can detect early signs of skin cancer and potentially-cancerous moles. The app allows users to take pictures of freckles, blemishes and moles on their skin. The application then uses a Machine Learning image processing model to compare it to more than ten thousand images of various skin conditions. The resulting analysis informs the user whether the blemish is benign or malignant, and if it resembles Melanoma, Bowens Disease, Basal Cell Carcinoma, Benign lesions, Dermatofibroma, or Melanocytic Nevi. The application, which was created in 24 hours, also allows users to track blemishes over time, providing updates on their health as they develop and change.
Each year more people are diagnosed with skin cancer than all other cancer's combined and it also estimated that one in five people will develop skin cancer by the time they reach 70 years of age. The team was inspired to give people better tools to monitor their own health. The team, who won the Transforming Tomorrow Challenge was inspired by that fact skin cancer is also one of the easiest to cure, if detected early. With this in mind, the team was motivated to develop a solution that empowers users to analyze and monitor the health of their skin.
Congratulations to Marshall, Lindsay, Devon and Lucas!