CS Professor Working to Improve Life in the Circumpolar North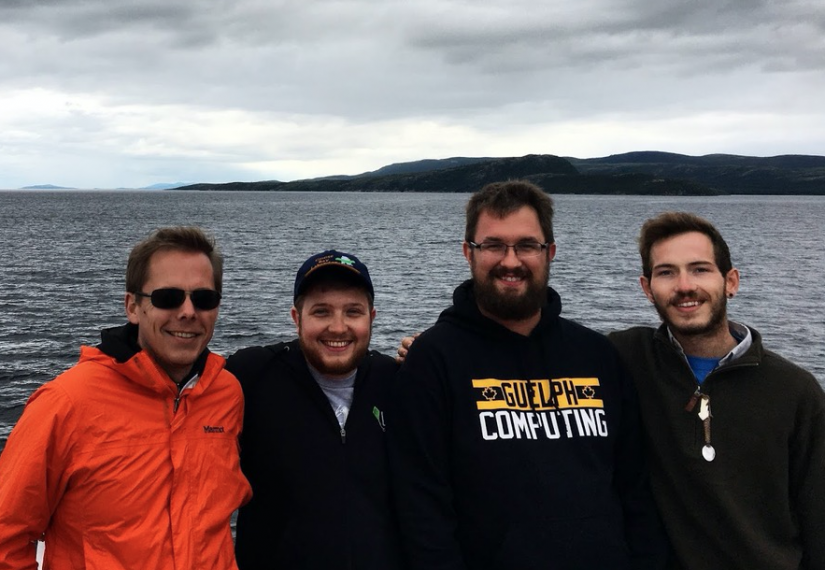 Dr. Dan Gillis and his team of undergraduate and graduate students are currently working with the community of Rigolet, Nunatsiavut, Labrador to develop a community-led health and environment monitoring program called eNuk. Rigolet, the southern-most Inuit community in the Nunatsiavut Land Claim Settlement Region of Labrador, is one of the fastest warming regions in the world. This warming, a result of climate change, is having a negative impact on the health and well-being of the Inuit who have a long-standing relationship with the land that forms the basis of their life, culture, and tradition. The changes are affecting the Inuit ability to access the land and the activities that have sustained them for generations. While the community has identified the need for eNuk to collect data related to health and the environment, the lack of cellular signal and limited internet typical of the Circumpolar North poses a challenge for data collection. 
The eNuk health and environment monitoring app is a community-led response to both the impacts of climate change and the challenges associated with the digital divide. 
Dr. Gillis is an Associate Professor and Statistician in the School of Computer Science and the Director of the Physical Science and Engineering Education Research Centre at the University of Guelph. The research team includes the Rigolet Inuit Community Government, the Nunatsiavut Government Department of Health and Social Development, and researchers from the Labrador Institute, the University of Guelph, and the University of Alberta. SoCS members involved in the project include Dr. Jason Ernst (alum and adjunct professor), Oliver Cook (recent MSc graduate), Nic Durish (MSc student), Frazer Seymour (undergraduate student), and Keefer Rourke (undergraduate student). 
To ensure the app is useful and relevant to the Rigolet community, members of the eNuk team travel regularly to the community to consult with community members to discuss different ways of building the comprehensive monitoring system.
Nic Durish, a Master's student in the School of Computer Science recently joined the eNuk team. Nic first heard about the eNuk project when he was in the final year of his undergraduate degree and working closely with Dr. Gillis as his Teaching Assistant. Dr. Gillis was beginning his involvement with the eNuk team and mentioned to Nic it might be a good fit for him when he started his Master's degree. Over Nic's year off between his undergraduate and Master's degree, Nic kept in contact with Dr. Gillis and closely followed the eNuk project as it began to expand its scope. By the time Nic returned to Guelph in August 2017, Dr. Gillis had partnered with one of Nic's previous Teaching Assistants and role models; Dr. Jason Ernst. Jason had just begun his career at Left, designing and developing a mobile mesh networking system known as RightMesh. This technology is essential to the eNuk project, as it enables internet and cellular independent communication within the community. "With the inclusion of mobile mesh networking, the eNuk application had grown from an environmental and health monitoring application to a tool to provide sovereignty to communities; building a foundation for locally-led and real-time data collection, dissemination, and analysis without the need for costly networking infrastructures, " said Nic. In response to a community request that eNuk "not be just another app – it has to be part of our lives", Nic will focus his research efforts on participatory design methods and the use of social elements of gamification to foster user engagement.
As the potential impacts of the project expanded, Nic says he has learned more from the experiences within the eNuk program than he has for any other experience. "My involvement in this project has allowed me to work on problems I would never have considered, visit places I could never have imagined, and connect with amazing individuals beyond comparison. Being involved in eNuk has taught me about my own ignorance, and has made me feel impactful and small, which has been an incredibly empowering feeling," Nic said. "It might even be an understatement to say that community members are involved in this project, after all, the community IS the project. For all intents and purposes, I have an entire community working as my 'boss' and I couldn't be happier about it. It has completely flipped the industry hierarchy that most people expect from a computation-based project. Our application's design, functionality and requirements are led by discussions, instead of demands and by compromises, instead of conditions. Working for an entire community brings the project meaning and context in a way that an industry-led project could only strive for," said Nic. Nic is proud to be part of a project that is truly meaningful and looks forward to expanding the eNuk program over the course of his Master's degree.
To read more about eNuk, as well as other various University of Guelph research programs that are taking place in the Circumpolar North, please visit Portico Magazine: https://issuu.com/uofguelph/docs/2018_spring_portico_web/12. You can also learn more about eNuk here.