The School of Computer Science and Left to Collaborate on $2.13 Million Mitacs Research Project to Help Bridge Canada's Digital Divide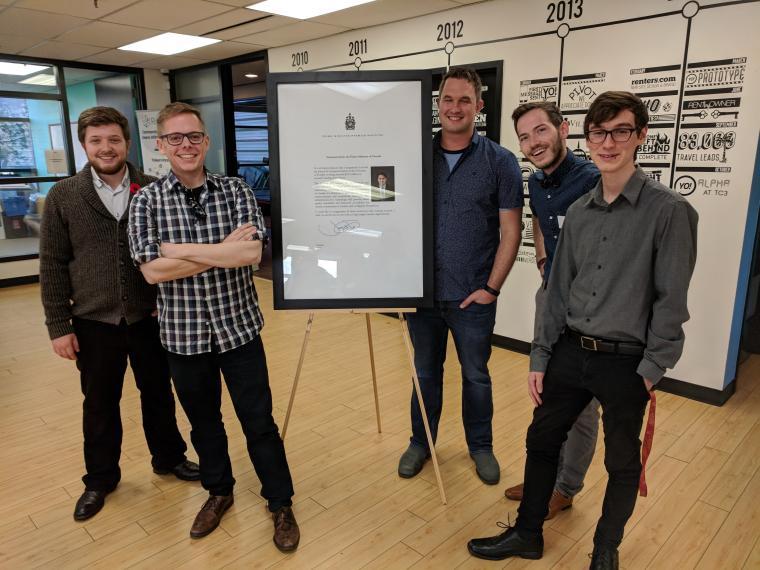 The School of Computer Science is excited to announce Mitacs, a national, not-for-profit organization that designs and delivers research programs, has awarded a $2.13 million research project to the School of Computer Science and Left to further improve connectivity in Northern Canada and address the nation's growing digital divide.
The Mobile Mesh Technology for Improved Connectivity in Canada research program co-led by Dr. Daniel Gillis, Associate Professor at the School of Computer Science and Dr. Jason Ernst of Left, a Vancouver-based technology start-up, will support 120 graduate student internships over the next five years, including four Post-Doctoral Fellows and 16 PhD students. This project is the largest-ever in partnership with the School of Computer Science at the University of Guelph.
This critical investment will support the development of RightMesh, a mobile mesh networking technology that works to overcome connectivity challenges in remote communities around the world. The platform, which uses Wi-Fi, Wi-Fi Direct, and Bluetooth capabilities of smartphones to create an ad-hoc wireless mobile network, will be used to improve connectivity in regions of the world (such as the Circumpolar North) where infrastructure and/or costs prohibit access to the internet.
Project funding will also be utilized to create mesh-enabled applications, including messaging, emergency response, and environment and health monitoring applications. Many of these remote communities have limited mobile connectivity and this project aims to provide improved accessibility and a sense of digital sovereignty to these communities.
For this multi-year project, Left will support $1.1 million of the funding, with Mitacs providing the remaining $1.03 million, including a travel grant for researchers to travel to the remote communities in the Circumpolar North. Dr. Gillis believes "improved connectivity in the North will help communities collect and share the data that is important to them, and connect in ways they never could have before. This includes collecting and sharing data necessary for responding to, managing and adapting to the impacts of climate change. With the support of Mitacs and RightMesh, communities like Rigolet can continue to lead research that will improve life across the North and beyond."
This research program builds on research efforts that were initially supported by the Canadian Internet Registration Authority (CIRA). The CIRA, specifically the Community Investment Program, has provided seed funding for researchers to travel to Rigolet, Nunatsiavut to better understand how the community can adopt and implement the mesh technology, how it can be used to support the needs of the community, and to begin the initial phases of implementation and testing of the wireless mesh network.
Nic Durish, a current Master's student in the School of Computer Science, has been selected as the first intern for this research program. He will continue his research efforts investigating and quantifying the digital divide; a critical first step for implementing the wireless mobile mesh networking platform. Each internship will last a minimum of four months and will require the Intern to spend a portion of their time working at the Left office in Maple Ridge, British Colombia.
Canada's Prime Minister Justin Trudeau sent a statement congratulating Left and the School of Computer Science on the research funding. Trudeau wrote, "in a country as expansive as Canada, it is important to find ways to overcome communication and connectivity challenges. This infrastructure-less technology will provide better quality bandwidth and improved accessibility for remote communities in Canada, such as Rigolet, Nunatsiavut."
If you're interested in participating in this research program, please review the list of current PhD positions and Postdoctoral positions. The position are available immediately and will remain open until an appropriate candidate is identified.
Congratulations to Dr. Gillis and Dr. Ernst on this exciting research project!