School of Computer Science Student Selected as Lead for Google Developer Student Club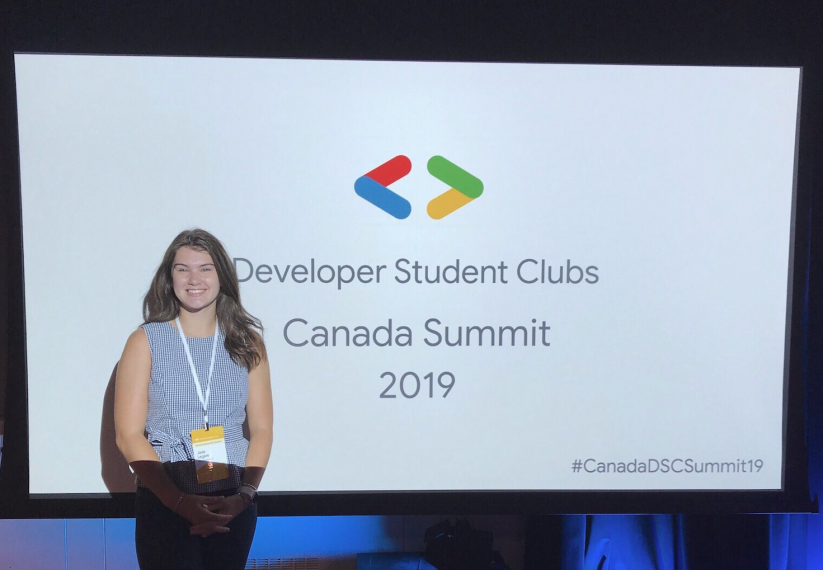 Congratulations to School of Computer Science student Jade Legare who has been selected to lead the Google Developer Student Club at the University of Guelph. Once a year, Google selects university students from around the globe who are passionate about growing developer communities to be a Developer Student Club Lead and supports them with starting their own student club on campus.
As the Lead, Jade will be responsible to set up the club at the University of Guelph, recruit members, create workshops and manage the club for the school year. The club is structured by providing workshops to students from any academic background about Google technologies like artificial intelligence, machine learning and cloud technologies. Students will then work together in a peer-to-peer learning environment to build technology-based solutions for local problems.
Excited for the opportunity, Jade says she is, "thrilled to start this club on campus to give students access to more technical platforms and gain practical experience through the creation of professional projects" and she, "wants to help empower students across all disciplines to grow their technical skills and gain industry relevant knowledge."
Jade recently attended the Developer Student Clubs Canada Summit in Toronto over the weekend of August 10th and 11th to learn more about unique opportunity, discuss strategies and meet the other selected Leads from across the country. This is the first year Google has created a Developer Student Club community in Canada.

To learn more about the Google Student Developer Student Club, please visit their website: Google DSC. If you are a University of Guelph student interested in joining the club, please contact Jade Legare: DSC Guelph.
Congratulations Jade on this amazing opportunity!