School of Computer Student Wins $10,000 Top Prize at Hackathon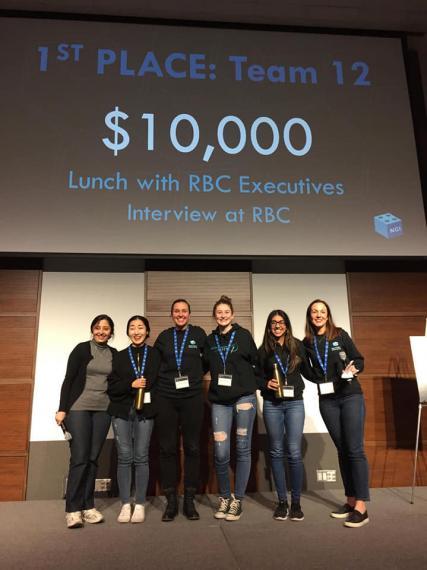 School of Computer Science student Julia Hohenadel helped led her team to victory in a recent hackathon put on by RBC that aimed to increase financial literacy. The 12th annual 'Next Great Innovator Hackathon' for technology-minded students was held in Toronto on November 17th, 2018. The 12-hour women's-only hackathon included grade 11 and 12 high students, as well as first and second year undergraduate students.
Julia's team of four received the first place $10,000 cash prize to split amongst them, as well as lunch with several RBC executives. The top three teams will all receive job interviews with RBC.
Students from across the region united together to develop a technical solution that answers this year's challenge: to develop a solution to increase financial literacy in Canadian youth. Julia, a second year Software Engineering student spoke highly of the event. "One of the coolest things about this hackathon was that I didn't know my teammates before the event and we didn't even know the problem we were going to be solving. I think it's awesome that we gelled that quickly, and we were able to conceive and create a product that worked off each other's skills in such a small amount of time, " she says.
Julia found the all-women aspect to be encouraging. "One of the main attractions was that it was a women-only hackathon! I don't think I've ever been in a room with that many women in tech, so I was excited to try it out. I found an all-female hackathon better than a mixed, generally male-dominated hackathon. I felt much more comfortable in my coding abilities because when men are around I put too much pressure on myself to do super well. This time I was able to focus on the code and I guess that lead to great things!" she says.
Julia's group responded to the challenge by creating experiences tailored for students and to help late-high school and university students educate themselves quickly and efficiently. "We came up with this idea because my teammate is in high school and she recently got her first job, so she had to open a new bank account and had no clue about finances. So, we thought we'd help people in a situation similar to hers," she says. In just 12 hours, the team created:
A game to help students understand the true cost of university
A chatbot for students to ask judgement-free financial questions to
A website to link these to things together so that the information is at the tip of people's fingers
Congratulations to Julia and her team! Well deserved!