Student To Present At The British Ornithology Union's Ornithologist Twitter Conference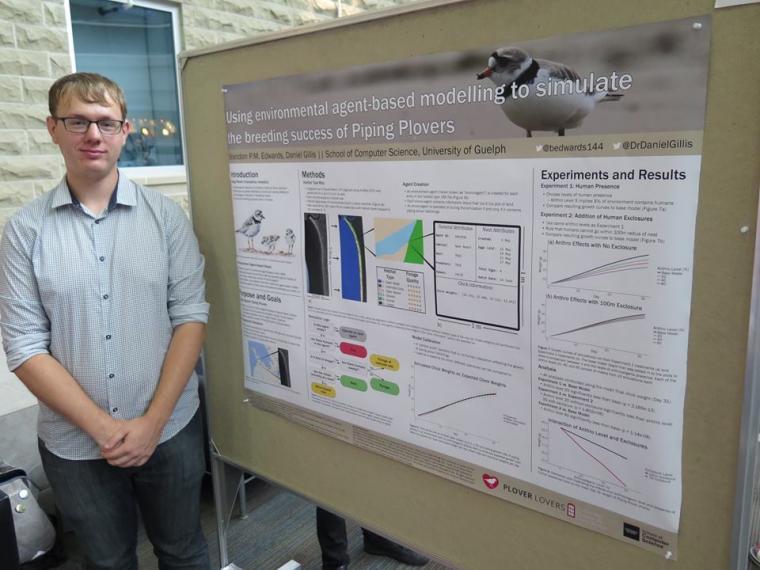 Third year Computer Science student Brandon Edwards will be presenting at the inaugural British Ornithology Union's Ornithologist Twitter Conference. Brandon will be alloted a 15-minute time slot to present six tweets about the findings of his research with his advisor, Dr. Dan Gillis completed this past summer and fall. Brandon will be presenting with over 70 ornithology researchers from around the world. His presentation titled, "Modelling Breeding Success of Piping Plovers using an Environmental Agent-Based Model" explores the development and use of environmental agent-based models on the endangered Piping Plover. Brandon's abstract for his presentation is as follows:
"The Piping Plover (Charadrius melodus) is an endangered species native to North America. In Ontario, Canada, breeding piping plovers face a great deal of disturbance from humans. This is especially evident on tourist-centric beaches such as Sauble Beach in South Bruce Peninsula, Ontario. To understand the cumulative effects of these disturbances, a type of spatially explicit agent-based model was developed. The model allows for addition or subtraction of stressors to observe how piping plovers in a simulated environment react. Analysis of these results can be used to inform future management decisions and practices."
Brandon will be presenting at 6:45pm on November 28th, 2017.  Taking part in #BOU17TC couldn't be easier – join in from wherever you want. Access the event on your laptop, smartphone or tablet via Twitter using the conference tag #BOU17TC and following Brandon's Twitter handle @bedwards144.
Good luck, Brandon!