Women in Computing: Laura Gatto
On March 8th, the world celebrated International Women's Day. This day of celebration recognizes the achievements of women around the world across the political, economic, social, technological, and cultural spectrum. It is a day to recognize that the progression of the world has been accelerated (and continues to accelerate) by the overwhelming positive impact of women breaking through countless barriers and making their mark on the world. Here in SoCS, we want to continue to showcase the strong work of our women in STEM.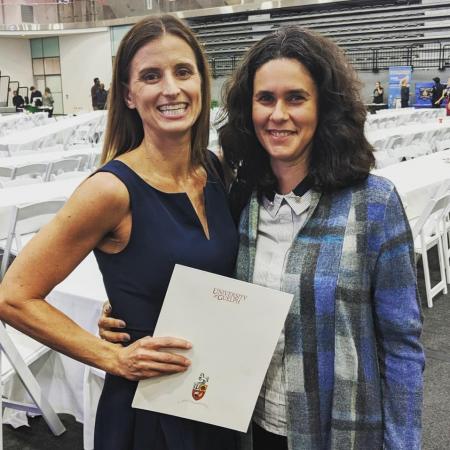 Laura Gatto MSc. | PhD Candidate (Computational Sciences)Co-op Co-ordinator, School of Computer Science
Laura has been a long-time player here at the University of Guelph, initially coming here in 1994 to complete the Akademic program, which at the time was the only program where you could study both arts and science within the same program. Laura, originally from North Western Ontario, fell in love with the University and the City of Guelph and began working on campus in 1998. Laura is currently the Co-op coordinator for SoCS. A life-long learner, she completed her MSc and is now a PhD candidate in Computational Sciences. Her research interests include interdisciplinary work in Data Science, Labour Market Economics and Social Science to research barriers to employment for historically disadvantaged groups. She is very grateful to her advisors, Dr. Antonie (Computer Science) and Dr. Plesca (Economics) for guiding her and supporting her to achieve her goal of applying theoretical research to tackle heterogenous social problems. She noted how impactful it has been to have 3 women on her PhD Advisory Committee. A decade earlier, her Master's Advisory Committee was comprised of all men.
Laura has been an influential leader for years, with a focus of supporting women in STEM, as well as students with disabilities through Work Integrated Learning. Laura has been the staff leader for our Guelph Women in Computer Science group (GWiCS) since its outset, aiding in their goal of providing support to women interested in pursuing computer science and software engineering. Laura connects students to Industry partners to provide employment opportunities for students. She is also a leader in developing resources and supports for students with disabilities to persist in activities that improve their career ready skills. Laura speaks on panels, attends social events, and leads women in computer science to achieve their career goals. In her daily life, Laura helps students to develop the social and human capital needed to successful transition into the labour market. Laura was officially recognized for leadership work when she was awarded the President's leadership award in 2019.
Laura is driven by her passion to continue improve the life of students, and to mentor the next generation of young women in CS. This has been seen throughout her entire career here at SoCS, her leadership position within GWiCS, and her continued efforts to advance research to tackle the systemic barriers that persist in the labour market for disadvantaged groups. This level of leadership and enthusiasm cannot be easily expressed, as it is so expansive and so wide in its breadth. To quote the speech given in recognition of Laura's award for leadership:
"Laura's energy and enthusiasm to develop innovative opportunities and her commitment to provide exceptional service to all students and employers is second to none."