Women in Computing: Maddie Gabriel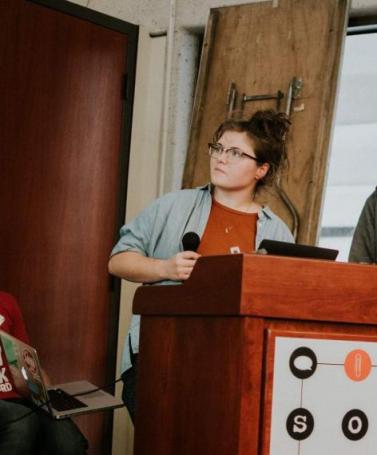 Maddie Gabriel, SoCS Student, Software Engineering
Bachelor of Computing, Major in Software Engineering, Minor in Math
On March 8th, the world celebrated International Women's Day. This day of celebration recognizes the achievements of women around the world across the political, economic, social, technological, and cultural spectrum. It is a day to recognize that the progression of the world has been accelerated (and continues to accelerate) by the overwhelming positive impact of women breaking through countless barriers and making their mark on the world. Here in SoCS, we want to continue to showcase the strong work of our women in STEM.
Maddie is a student pursuing a Bachelor of Computing with a major in software engineering here in SoCS. For most of her schooling here in SoCS, Maddie has been immersed in all things SoCS: Maddie actively pursues teaching assistant positions, she helps out in her community, can be found most days in Thornborough, and is a co-leader and co-founder for Guelph Women in Computer Science (GWiCS). In such a short time, Maddie has propelled SoCS forward and inspired women throughout our community. For more information on GWiCS, visit their webpage here: https://gwics.org/about.html
           When not working within SoCS, doing assignments, or studying for her courses, Maddie can be found working as a Peer Helper for Learning Services. Maddie's goal as a Peer Helper is to engage with students who are struggling academically, both to provide study aid and strategies, as well as provide counsel to those students. In this role, Maddie is a mentor to students that need just that extra little bit of help to succeed. She has been making an impact in her community as a peer helper for four years and counting, and now trains and mentors new peer helpers so that they can make a positive impact on future generations of students. Maddie also helps out with a variety of events each year, including Ontario Universities Fair, Fall Preview Day, Science & Engineering Sunday, among many others. This allows Maddie to get involved and make an impact on future events and lets her connect with prospective students before they come to Guelph. On top of all of this, Maddie is also on the Co-op Student Advisory Committee, which helps to support co-op students and improve the co-op program.
            As Maddie comes to the end of her program, her future is only bright. Maddie's co-op experiences have led her to many amazing opportunities in the private sector, where her leadership will only continue to shine through in her daily life. Communities and corporations like Halton District School Board, Sun Life Financial, Sheridan College, Tulip Retail and (this summer) the Bank of Canada have already had the opportunity to employ Maddie, and she intends to spend at least a few years in the private sector. Maddie has a strong interest in learning theory (how students process, study, retain, and recall learned knowledge), which she may consider returning to school to pursue further studies in through a graduate program degree.
Do you have any advice for anyone who is just starting here at Guelph to motivate them to continue to pursue STEM or leadership positions in STEM?
"My advice is to say yes to opportunities that come your way! Go to club meetings and events to connect with your peers, professors and upper year students. Get involved in the broader STEM community by going to hackathons and tech meet-ups, if that's your thing."