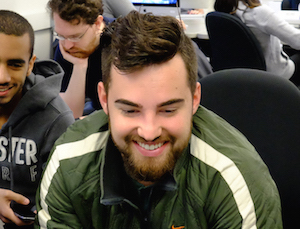 When I came to Guelph, I had a strong interest in Psychology. As I began my third year of the Bachelor of Arts program, I took the University's introductory programming course as an elective. I knew almost immediately that I had found the real reason I was enrolled in post-secondary education.
Programming is compromised of a unique mix of craft and science, and it was like something I had never experienced before. I was eager to learn more and create software that had practical uses. With the guidance of various members of the Faculty I was able to switch into the Software Engineering program the following year. Over the course of the subsequent two years I studied and learned about data structures, algorithms, databases, software design methodologies, and microcomputers.
My four years at the University of Guelph have been absolutely incredible and have opened me to so many things. I have just started my Master's Degree and my present research area and primary interests lie in the domain of Human Computer Interaction. I am looking forward to continuing my studies and to what learning experiences the next year will bring.