Trade Show Highlights Student Innovation, Attracts Local MP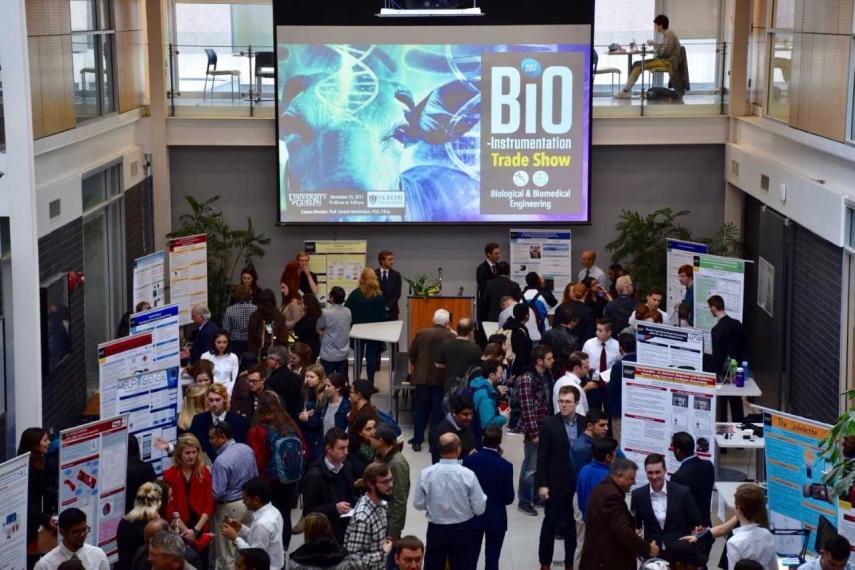 From a medical brassiere that assists healing after breast cancer surgery to an electronic glove that helps a deaf-blind person communicate more easily, University of Guelph students have come up with about two dozen bioengineering prototypes that can help improve life.
They were displayed Monday during a bio-instrumentation trade show on campus. The School of Engineering atrium teemed with people and ideas that may help the biomedical, health care, food and agricultural industries.
Guelph MP Lloyd Longfield toured the displays, talked with the undergraduate developers, and spoke of the importance of student research and innovation.
"It is so good to see the work going on here – practical work, where you are learning design, and you're also learning how to get it to a point where other people can understand what ideas you're developing," Longfield said.
He said the trade show is an excellent showcase of how products are developed and career paths embarked upon.
Longfield's visit to U of G was part of Universities Canada's Bold Thinking, Better Solutions campaign, aimed at connecting local MPs with universities to highlight students and researchers driving economic, social and cultural innovation.
Hannah Milan, Victoria Champion and Caitland Boulos developed the Healing Assist Bra prototype. It was inspired by a commercial product that uses multiple sensors in a pair of leggings to measure the wearer's exact jean size.
"We first saw that the same application could work for bra sizes," Boulos said. "Then we started thinking that it could have a medical application."
About 29,000 Canadian women undergo breast cancer surgery each year, the students said. Most post-surgery recovery takes place at home. Intended for use after a mastectomy or lumpectomy, the Healing Assist Bra contains temperature and moisture sensors that alert the wearer to a potential wound infection or when it's time to change dressings.
MP Lloyd Longfield
Carlos Lopez, Karine Jarzecki and Daiana Spaturu developed the TacTalk personal communication device. The glove senses gestural information, converting it from touch to text.
"Having this kind of hands-on research experience is invaluable," Lopez said of the project.
He said he went into engineering because of the deep-rooted problem-solving potential in the field, as well as to be able to produce a prototype that actually works.
"Through this project, I was able to become more aware of the community we are trying to help," he added. "From an engineering and understanding perspective, putting what you learn in lectures toward actually manufacturing something helps you understand those concepts even further."
Longfield's visit to campus comes as the federal government is mulling over the recommendations of the Fundamental Science Review Panel, or Naylor Report, in the lead-up to the 2018 budget. The report recommends a major reinvestment in discovery research at the university level, a scaling up of capacity to attract top minds from around the world, and enhanced support for research and innovation leaders.