U of G Student's Low-Cost Prosthetic Hand Changing Lives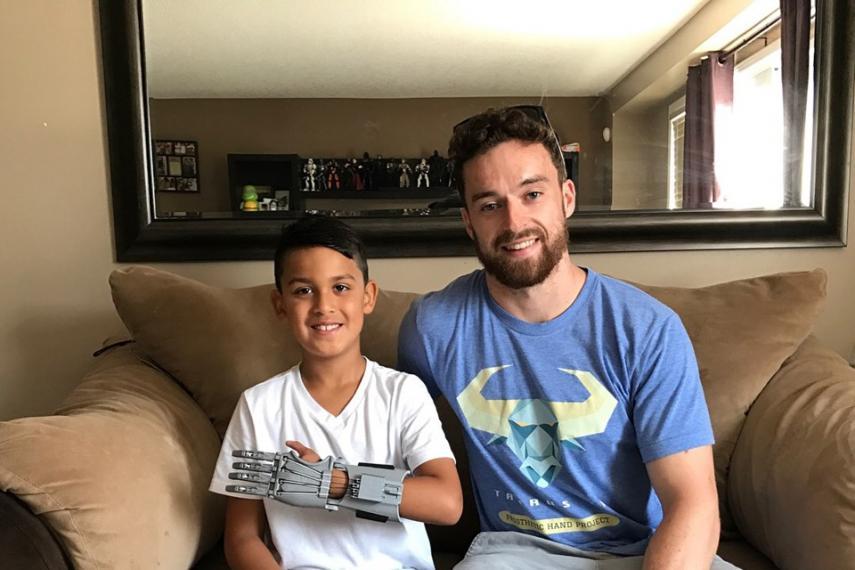 Jerry Ennett is giving a helping hand to those in need – a hand made on a 3-D printer.
The University of Guelph biomedical engineering co-op student has been perfecting a printable prosthetic hand over the past three years. Made of durable plastic or nylon, it uses tension cables to activate the fingers.
In mid-November, Ennett will share the design and technique for making the affordable, functional hand with technicians in a remote medical clinic in southern India.
"I like using cutting-edge tech to help people," Ennett said. "That's one of the coolest combinations."
When he saw that the high cost of prosthetic devices made them prohibitive to the impoverished, Ennett envisioned 3-D printing technology as a possible solution. He is on a medical humanitarian mission to bring affordable prosthetics to the poor, while driving medical innovation around the world.
In just his second year at U of G, Ennett started a 3-D printing company, Taurus 3D, with a summer business grant from his hometown of Stratford, Ont., and with financial assistance and entrepreneurial guidance from the Hub incubator program, part of U of G's CBaSE (Centre for Business and Student Enterprise).
The Hub offers students and alumni funding, dedicated office space and access to experienced entrepreneurs, helping startups develop a strong business model.
While taking printing jobs that paid the bills, Ennett explored the altruistic uses of 3-D technology, landing on the idea of prosthetic devices that can be easily and cheaply made.
He used open-source designs to print his first hand, tweaking the plans to accommodate different wearers. Co-op placements at 3D4MD, a 3-D printable medical supplies company in Toronto, and biomedical engineering firm Starfish Medical in Victoria, B.C., helped enhance his skills.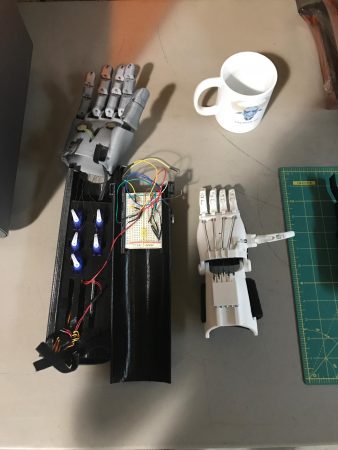 His printed hand concept won him first prize at the 2016 World Vision Social Innovation Challenge. And it landed him an invitation to Amar Seva Sangam, a rehabilitation centre for disabled children in southern India. There he will train workers in 3-D tech, as well as how to assemble, fit and use prosthetics. The Canadian charity Handi-Care International helped sponsor the effort.
Using his process, a prosthetic hand can be made for about $25 worth of materials, he said. It takes about a day to print a hand and two hours to assemble.
"With 3-D printing, once the design is done, it basically comes down to the cost of the plastic," he said.
The reality of amputation and prosthesis hit home for Ennett when he was a hockey player.
"The first time I heard about prosthetics was when a friend on my hockey team was diagnosed with leg cancer," Ennett said. "It was found as a result of a fracture he received on the ice. He ended up having to get an above-knee amputation."
The Amar Seva Sangam centre sees as many as 20 amputees each month, but does not have the resources to provide patients with prosthetic devices. Ennett's trip will equip the centre with the machines, tools and skills needed for do-it-yourself prosthetics.
He leaves for India on Nov. 15.