School of Engineering Honours & Awards Recipients 2021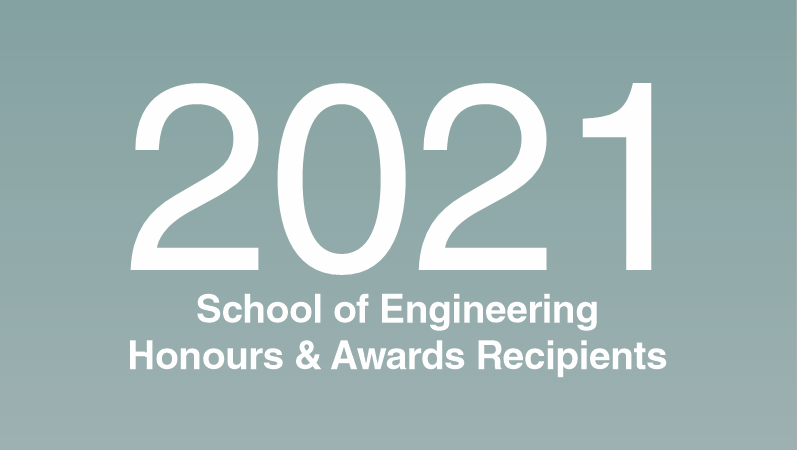 Announcing the Recipients of the 2021 School of Engineering Honours and Awards!
Award of Excellence: Engineering Classes of '76, '77 and '78
As part of a class project, the '76, '77 and '78 graduating Engineering classes set an ambitious goal of fundraising among their peers to establish a student leadership award, in honour of former U of G engineering professor Peter Chisholm. In 2021, they achieved their fundraising goal—an incredible milestone for this type of fundraising project.
Congratulations to the class leads John Patterson, Myron Pestaluky, Geoff Parker, Dale Downey, Rui De Carvalho and John Lackey, and the classmates who generously donated to the project.
One award will be handed out each year to an engineering student who best demonstrates outstanding leadership skills in the School of Engineering and/or community. In addition to a scholarship of $5,000, the award recipients are provided a unique opportunity to build connections within the professional engineering community; they will receive mentorship and career advice from the Engineering alumni who established this award.
Young Alumnus/a of Honour: Amanda Pinto, B.Eng '18
Amanda Pinto is a Land Development Engineering Intern at C.F. Crozier and Associates. Since joining the team in 2018, she has assisted with the design of stormwater management ponds using modelling software to help control the increase in runoff within developed lands. She has worked on a variety of projects involving the design of residential developments within the floodplain and institutional properties that require detailed civil grading and servicing. She is also part of the research collaboration between Crozier and Wilfrid Laurier University which focuses on how vegetation in stormwater management ponds can enhance water quality. In addition to her professional work, Amanda serves as the Chair of the PEO Grand River Chapter 30x30 Committee to help promote the number of licensed women in the field of engineering.
Mid-Career Award: Mark Bassingthwaite, B.Eng '02
Mark Bassingthwaite, P.Eng. graduated from Water Resources Engineering at the University of Guelph in 2002 after completing co-op terms at provincial and municipal governments as well as a consulting engineering firm. After graduation, Mark held progressive positions in the consulting and non-profit environmental industries before starting a consulting engineering business (Resilient Consulting Corporation) in 2018. Over the years, Mark has been a firm supporter of the Guelph Engineering co-operative education program and has been involved in the hiring of over 20 students from the University of Guelph. In 2016, while Mark was a Vice-President at Cole Engineering Group Ltd., the firm received the Co-op Employer of the Year award from the University of Guelph.
Building on his passion for the outdoors, Mark has completed numerous wetland and watercourse restoration projects across Southern Ontario, resulting in lasting enhancements to the natural environment. Mark has also completed numerous flood assessment and mapping projects as well as leading design and implementation of numerous flood reduction and infrastructure improvement projects, which have resulted in lowering risk to several flood prone urban areas within the Greater Toronto Area.
Engineering Co-op Employer of the Year: Tigercat Industries
Tigercat Industries has been selected as the Co-op Employer of the Year. The School of Engineering is thrilled to honour the growing relationship Tigercat Industries has with the Guelph Co-op program. They have become one of the largest Mechanical Engineering Co-op employers. The feedback from our students has been overwhelmingly positive from their hands on experience to the mentorship from supervisors.
Tigercat designs and manufactures machines used in the forest harvesting sector. Based out of Brantford Ontario, Tigercat has eleven southern Ontario facilities, including Paris, Kitchener and Cambridge. Since 2015, Tigercat has hosted over 90 work terms with the University of Guelph, with 45 individual Co-op students working at Tigercat.