Future Graduate Students
MSc (thesis) and PhD Food Science 
MSc (course-based) and GDip (online) Food Safety & Quality Assurance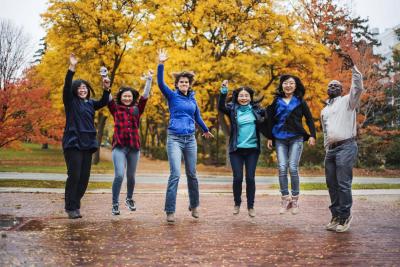 Food Science MSc (thesis) and PhD programs
Food Science is a combination of all the pure sciences. A Food Scientist applies knowledge of microbiology, sensory analysis, biochemistry, chemistry, physics and engineering.
A Day in the Life of Xinya Wang, MSc Student
The essential role of a Food Scientist is focused on how to enhance the quality, safety, functionality and nutrition of foods. This is reflective in the research performed within the Department of Food Science at Guelph.  For example, food safety research is directed towards studying approaches to prevent, detect or decontaminate foods. Food preservation methods are researched that encompass processing technologies and packaging innovations. The application of science to improve the quality of dairy products, chocolate, ice cream, cereals and meat are also studied. Research into methods of food analysis and sensory science as well as studies around nutraceuticals and functional foods are high profile research areas.
Learn more about the graduate experience in the Department of Food Science by viewing our YouTube video.
Applying to the MSc FOOD (thesis-based) and PhD FOOD programs:
As part of the application requirements, you are required to secure a faculty advisor to supervise your program. Our faculty profiles describe their research programs in more detail and can be found in our faculty directory.  You are encouraged to review the information posted.
Your admission application will require the department supplemental document, the Application Fact Sheet. Complete the Application Fact sheet found at the bottom of this webpage to include in your application package via WebAdvisor.  
DUE DATES for the MSc FOOD (thesis-based) and PhD FOOD applications:
Note: International applicants should apply with consideration given to time needed for immigration procedures if you receive an offer.  
Winter semester (January): by November 1st
Summer semester (May): by March 1st
Fall semester (September): by July 1st
Offer letters indicate the requirement for official transcripts by the first class day of the semester in which you start your program. International students are required to submit a valid study permit and passport when they arrive on campus.
Applications are scored based on academic performance in a relevant field of study, referee assessments, statement of interest and experience in appropriate and related fields.  
Postings of available Graduate Student (MSc & PhD thesis) positions are listed on the lower section of the Food Science main website under Graduate Student, Research & Faculty Positions.
For more information on how the application process works, review Applying to Guelph
Financial Resources:
Awards and scholarships search tool 
Visit our Graduate Studies program page for the MSc and PhD Food Science programs.
For more information, contact
Academic Program Assistant: Tricia Townsend - foodinfo@uoguelph.ca
Graduate Coordinator: Prof. Keith Warriner - 519 824 4120 extension 56072, kwarrine@uoguelph.ca
Food Safety & Quality Assurance MSc (course-based) or Graduate Diploma (online)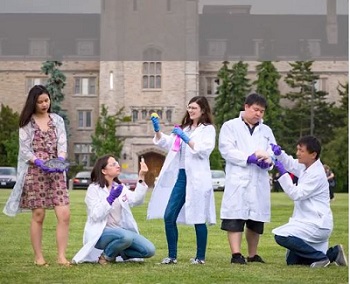 This graduate program is intended to prepare food scientists, food engineers, public health or food safety inspectors, and others with appropriate scientific backgrounds for participation in food safety monitoring in industry and government.  Both GDip and MSc FSQA students acquire knowledge of the fundamentals of food policy development, Canadian and international food law, applied aspects of total-quality management, food safety management systems, risk analysis, and detection and epidemiology of foodborne pathogens. 
Students who undertake graduate studies at the MSc level will complete online & on campus courses including a research project course.  
The GDip FSQA is suited to those who need the flexibility of online courses and are not interested in completing a research project. 
FSQA program details are available on the Graduate Studies Food Safety & Quality Assurance program page.
The University of Guelph's general admission requirements for both the MSc and GDip FSQA program are outlined by Graduate Studies.  Applications are scored on academic performance in a relevant field of study, two referee assessments, a statement of interest in the program and/or career goals, and any experience in appropriate and related fields.  
Who should apply?
The MSc Food Safety and Quality Assurance graduate program is available to domestic and international applicants.
The GDip FSQA program is available to domestic applicants.
No Faculty Advisor is required prior to admission to this course-based program.  
Success in the graduate level FSQA courses requires a background in microbiology, toxicology, statistics, and analytical methods.  An academic or work background in a relavant field is required.
If you do not have a background in Food Science:
You may wish to take courses online in the Food Science Certificate program before applying for the FSQA program.  The following courses will provide a suitable background for applicants:
FOOD*2420 Introduction to Food Microbiology (September start)
FOOD*2410 Introduction to Food Processing (January start)
FOOD*4310 Food Safety Management Systems (January start)
How much of the program is online?
The GDip FSQA provides an opportunity for graduate-level study of theory and research to students who reside anywhere in Canada through 5 online courses. This GDip FSQA program is designed to provide a balance of scientific and management principles underlying Food Safety and Quality Assurance, including microbial and chemical food safety issues, national and international regulatory environments, food risk analysis, and quality management.  The program is most suitable for those currently employed or seeking employment in any area of the food industry and associated service and government sectors that require advanced knowledge of food safety and quality management.
The FSQA Master of Science includes the same online courses, but also includes on campus courses including a research project course.  You can choose elective courses from a diverse selection of courses to fit your interests.  
What time commitment do I need to make?
The FSQA programs can be taken full-time or part-time.  You can also change between full and part-time studies.  Flexibility is built into the program to meet your needs and support is available to help you plan completion of the program.  With approval, a leave of absence from the program for a semester can be approved to accommodate your work demands.  
For the MSc FSQA research project, you work with a Faculty Advisor over two semesters and are graded on a research paper and poster presentation.  The MSc FSQA program can be completed full-time in 4 semesters.
The GDip FSQA program can be completed full-time in 2 semesters.
What is the cost?  
Information on applicable fees for graduate students is available from Student Financial Services.
Visit our Graduate Studies program page for the FSQA program and link to the graduate calendar description of courses.
Learn about our FSQA course-based graduate program in our YouTube videos:
Interested in Quality Management?
DUE DATES for the MSc FSQA, MSc FSQA+TOX, GDip FSQA applications:
Applications are currently being accepted for the Fall 2020 semester for the MSc FSQA, MSc FSQA+TOX, and GDip FSQA programs. 
International applicants: application open for fall 2021 admission until November 1, 2020
Domestic applicants: applications open for fall 2020 admission until July 1, 2020
Please review the University of Guelph application process for details and document requirements.
International applicant information
Cost of tuition and other expenses
Search tool for awards and scholarships
For more information about applying to the FSQA graduate program, contact FSQA@uoguelph.ca
For questions regarding academic background requirements or questions about the academic content of the FSQA program, contact the FSQA Graduate Coordinator, Professor Lawrence Goodridge goodridl@uoguelph.ca