Future Undergraduate Students
Bachelor of Science - Food Science Major
Co-op Available
We have both a Food Science Major and a Food Science Co-op Program
Food is a multi-billion dollar industry that is influenced by changing socio-economic conditions and evolving agricultural and industrial technologies. As a Food Science student, you will apply chemistry, microbiology and physics to study the processing and development of food products and processes. The program also covers aspects of law, health, nutrition, and security as they relate to food safety and quality. You will obtain hands-on experience in the industrial processes such as pasteurization, sterilization, fermentation, and packaging and apply these to commodity groups such as dairy, meats, cereals and beverages. In addition, you will gain experience in sensory evaluation and in the development of new food products and effective food safety and quality assurance programs. Communication skills are also emphasized to help ensure success in your future career.
Review an undergraduate student's perspective on our program.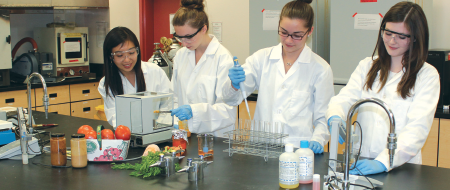 For information about the application process, transfers, post-degree applications, and completing a second degree visit Undergraduate Admissions.
New for Fall 2018 - Bachelor of Bio-Resource Management - Food Industry Management