Meet Lizzie, OAC Grad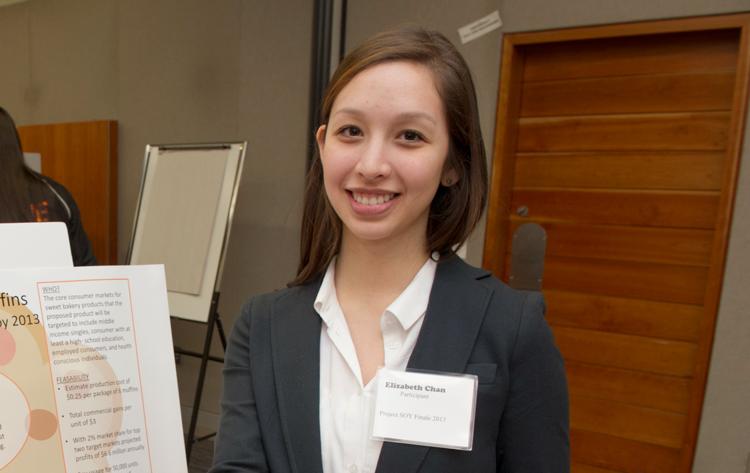 About Lizzie Chan
Lizzie Chan is a recent graduate of the Ontario Agricultural College. This newbie graduate is now working in food research and development. During her time on campus, Lizzie was actively involved, participating in various events and competitions, but still found the time to enjoy the Guelph campus. Lizzie recently shared her thoughts with us on her program, U of G and her plans for the future.
Program: Bachelor of Science - Honours Food Science
Year of Study: Graduating in June 2013
Hometown: Toronto, Ontario
---
Now that you've graduated, what are you up to?
While completing my degree in Food Science I developed an interest in pursuing a career in food product development and research & development. Through participation in extracurricular activities such as the Research Chef's Association Student Culinology Competition I managed to land a job in research and development (R&D) at Giraffe Food & Beverages in Mississauga, where I recently began working. I did get a little time off in between work and school to travel, and I'm going to Trois-Rivieres for the month of July to participate in the J'Explore program and work on my French!
What is your job like?
In my fulltime position with Giraffe I'm expected to help develop various recipes and optimizations for sauces, beverages, and smoothies. It can be a long process from concept to developing something suitable for the consumer, but it's rewarding and tasty!
What did you like best about your program?
I love how food science is so hands-on and applicable. The things I learned in my classes were tangible and immediate, as in I could go to a grocery store and see the concepts at work! I actually didn't begin university in food science, but after hearing about my one friend's job as a Product Development Co-op student in food science I knew that it was the right place for me to be, so I switched in.
How did you get involved on campus or in the community?
I was involved in the Food Science Club (FSC) for the last few years, and in the most recent school year held the position of Social Rep. In this position I helped organize activities for the FSC including cooking classes, a brewery tour and intramural sports. The FSC also takes part in College Royal and for the last few years I've helped out with our interactive demos and milkshakes. I've competed twice in the RCA Culinology competition, with our team placing 1st in 2012. I also placed 2nd in the 2013 Project Soy competition.
What residence did you live in during first year?
I was actually one of the rare few who lived off campus in first year. I was in a house with six other roommates so it was kind of like a mini res experience and I definitely learned a lot.
What was your favourite way to procrastinate, when you were supposed to be studying?
It was either baking or eating my roommate's baking! Especially when I should be studying I feel like I should be doing something productive, so this is the best of both!
Where was your favourite spot to hang out and eat on campus?
I love the Food Science building, we have a kitchen after all, but other than that I'd have to say both my favourite spot to hang out and eat is the Bullring. The portobello sandwich is the bomb! Or the salad bar in the University Centre is my go to for a quick snack.
In your opinion, what's one of the best places to hangout in the city of Guelph?
I loved With The Grain bakery and restaurant and The Cornerstone Cafe. Also Riverside Park was gorgeous and had lots of events like a Local Food Festival and the Multicultural Festival that I went to a few times and loved!
What do you miss about being at Guelph?
I miss all of my friends the most. I couldn't go anywhere on campus without running into someone I knew! Now that I've graduated it's a little more difficult to see some of them, especially if they live in other provinces/countries!
Share this page
Find related news by keyword
News Topics