Robert Hanner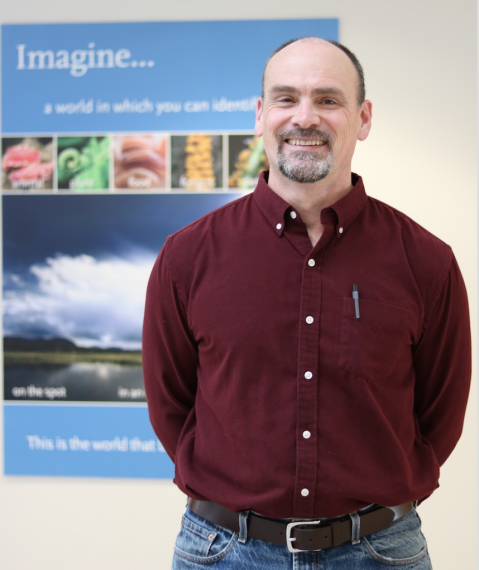 Robert Hanner is the Associate Director for the Canadian Barcode of Life Network, headquartered at the Biodiversity Institute of Ontario, University of Guelph. He currently Chairs the Database Working Group of the Consortium for the Barcode of Life (CBOL) and also serves as Campaign Coordinator for the Fish Barcode of Life (FISH-BOL) initiative, a project of global scale that aims to assemble a standard reference sequence library for the molecular identification of all fishes. Dr. Hanner is a Past President of the International Society for Biological and Environmental Repositories (ISBER). Prior to his arrival in Guelph (August of 2005), he served as the Scientific Program Director for the Coriell Cell Repositories (at the Coriell Institute for Medical Research) and prior to that, he was a Curatorial Associate at the American Museum of Natural History where he spearheaded the establishment of the Ambrose Monell Collection for Molecular and Microbial Research.
B.Sc. - Eastern Michigan University
Ph.D. - University of Oregon
My research focus involves the assembly and curation of genetic resource collections, involving everything from fieldwork methodologies to bioinformatics approaches. With the window of sampling opportunity closing for much of the World's biodiversity, the global DNA Barcoding initiative offers an outstanding opportunity to compile a well-characterized genetic resource collection of immense scope. My work involves raising the standards of, and disseminating relevant information on, how we sample biodiversity with an eye toward future genetic and genomic research. It is imperative that we maintain as much evidentiary value in our collections as possible and frozen tissue collections are a critical component of this mandate. High-quality specimen collections are essential for not only DNA barcoding and taxonomy, but also for more applied disciplines such as epidemiology and environmental toxicology. This makes my research focus multidisciplinary and collaborations with interested researchers and students are always sought. I am particularly interested in the development of molecular diagnostic tools for species identification and applications of those tools to questions involving biodiversity conservation and forensics. On a more philosophical level, I am interested in solving taxonomic problems, such as delimiting species boundaries, with phylogenetic solutions derived from the integration of multiple independent data sets (i.e. a total evidence approach). A thorough integration of behavioral, physiological, anatomical and genetic information provides an holistic approach toward the study of organismal evolution.
Braid HE, Osborne J, Deeds JR, DeGrasse SL, Wilson JJ, Hanner RH (2012). Preying on commercial fisheries and accumulating paralytic shellfish toxins: a dietary analysis of invasive Dosidicus gigas (Cephalopoda Ommastrephidae) stranded in Pacific Canada. Marine Biology 159: 25-31.
Naaum AM, Foottit RG, Maw HEL, Hanner R (2012). Differentiation between Aphis pomi and Aphis spiraecola using multiplex real-time PCR based on DNA barcode sequences. Journal of Applied Entomology (accepted Nov 2011, doi: 10.1111/j.1439-0418.2012.01706.x).
Zhang J, Hanner R (2012). Molecular Approach to the Identification of Fish in the South China Sea. PLoS ONE 7(2): e30621. doi:10.1371/ journal.pone.0030621.
April J, Mayden RL, Hanner RH, Bernatchez L (2011). Genetic calibration of species diversity among North America's freshwater fishes. Proceedings of the National Academy of Sciences of the United States of America 108: 10602-10607.
Becker S, Hanner R, Steinke D (2011). Five years FISH-BOL - brief status report. Mitochondrial DNA 22(S1): 3-9.
de Carvalho DC, Oliveira DAA, Pompeu PS, Gontijo Leal C, Oliveira C, Hanner R (2011). Deep barcode divergence in Brazilian freshwater fishes: the case of the São Francisco River basin. Mitochondrial DNA 22 (S1): 80-86.
Doukakis P, Hanner R, Shivji M, Bartholomew C, Chapman D, Wong E, Amato G (2011). Applying genetic techniques to study remote shark fisheries in northeastern Madagascar. Mitochondrial DNA 22 (S1): 15-20.
Handy SM, Deeds JR, Ivanova NV, Hebert PDN, Hanner R, Ormos A, Weigt LA, Moore MM, Yancy HF (2011). A Single-Laboratory Validated Method for the Generation of DNA Barcodes for the Identification of Fish for Regulatory Compliance. Journal of AOAC International 94: 201-210.
Hanner R, Becker S, Ivanova NV, Steinke D (2011). FISH-BOL and seafood identification: Geographically dispersed case studies reveal systemic market substitution across Canada. Mitochondrial DNA 22 (S1): 106-122.
Hanner R, Floyd R, Bernard A, Collette BB, Shivji M (2011). DNA barcoding of billfishes. Mitochondrial DNA 22 (S1): 27-36.
Danielle Bourque, MSc (co-advised with John Fryxell, Dept. of Integrative Biology)
Anibal Castillo, PhD (co-advised with Kari Dunfield, School of Environmental Sciences)
Kamil Chatila, MSc (co-advised with Sarah Adamowiczs, Dept. of Integrative Biology)
Adam Faller, PhD (co-advised with Steve Newmaster, Dept. of Integrative Biology)
Jennifer Gleason, PhD (co-advised with Karl Cottenie, Dept. of Integrative Biology)
Phoenix Gu, MSc (co-advised with Jeff Farber, Dept. of Food Science)
Kim Lyle, MSc
Jarrett Phillips PhD (co-advised with Dan Gillis, School of Computer Science)
Yashu Song PhD (co-advised with Baozhong Meng, Dept. of Molecular and Cellular Biology)
IBIO*3100 Interpreting Biodiversity I
IBIO*4100 Interpreting Biodiversity II
BIOT*6550 Biodiversity and Biotechnology
UNIV*1200 Biodiversity in Crisis