Improve Equity

U of G MBA alumnus, Jason Stoter is helping improve his local community and fellow entrepreneurs across the world.
"I want the people who work here to love what they do and have a balanced lifestyle. My goal is to inspire my staff to give back to their community."
Alumnus and entrepreneur Jason Stoter has a clear mission for his company. Quite simply, his company, Vivere, aims to "relax the world" with their high-quality outdoor living products sold around the world. Stoter believes, however, that in order for his company to make a real difference in people's lives, it needs to give back at both a global and local level.
Giving back
Stoter is proud of his philanthropic efforts – Vivere's corporate social responsibility is proudly and boldly displayed on their company website. Vivere donates 1% of its annual revenue to support a budding micro-loan charity called Eggpreneur, which helps budding female entrepreneurs in developing countries start chicken coups – a valuable source of income and nourishment for a growing family. Inspired by Stoter's charitable endeavours, Vivere's staff are also encouraged to give back to their community. His staff have helped builders at Habitat for Humanity by setting up hammocks at their worksites, giving them an opportunity to take a moment to recharge. They have also volunteered their time through food and clothing drives, as well as the humaine society.
Entrepreneurial vision
Stoter started Vivere in 2004 on a leap of faith. He was vacationing on a beach in Mexico in 2002 during his MBA when he was approached by a man selling hammocks. Impressed by the quality of the hammocks, Stoter saw an opportunity. Shortly after, he made his first purchase of 5,000 hammocks from a manufacturer in Brazil. Not knowing where he would store or sell the product, Stoter knew there was a market for them. After weeks of cold calling local retailers, Stoter landed his first customer - a local Home Hardware store. Vivere was born. With a focus on providing great quality hammocks and accessories with superior customer service, other product lines were developed to grow the outdoor living category. Fresh contemporary designs and vibrant exclusive colors continued to be a mainstay of the company.14 years later, Vivere sells its outdoor living products across the world from their 27,000 sq ft facility in Guelph.
"I was always really strong in the financial side of business. What my U of G MBA really taught me was leadership and people skills." - Jason Stoter.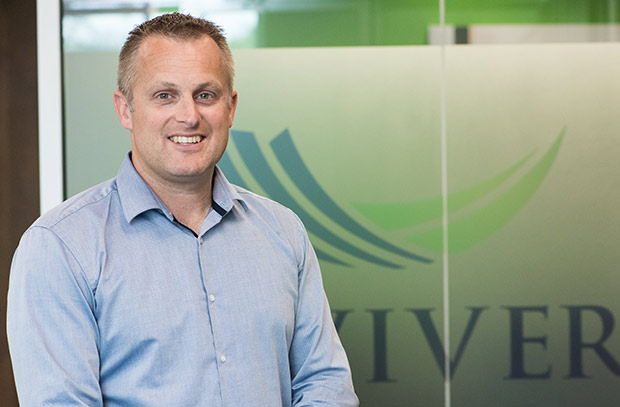 Giving Back
Vivere donates 1% of its annual sales to Eggpreneur, a charity that provides micro-loans to budding female entrepreneurs in Africa.

Stoter is a mentor and adviser to the founder of Eggpreneur, Matt Dickson, and travels to Kenya to see its continued progress.

His staff helps local charities like Habitat for Humanity, Lakeside HOPE House, Foodbank and the Humaine Society.

Former Chair of the Board of Directors at the Guelph Community Christian School in Guelph.
Entrepreneurial Vision
Ranked 27th on the 2014 PROFIT 500 list of fastest-growing companies in Canada.

His companies have grown to over $20 million in annual sales in 2018.

Stoter worked as a flower grower for 18 months before starting Vivere.

Appeared on CBC's Dragons Den to promote the Salamander Stroller Bike by Wike, a company Stoter invested in.

Board member of Bridesmade.ca, a startup in 2016 that was part of the Communitech community as a Fierce Founders Accelerator.
U of G Connection
Graduated with an BSc (Agr) in 1999 and an MBA in Food and Agribusiness in 2003.

Played for the Guelph Gryphons football team during his undergraduate degree.

His sister and brother-in-law are also U of G alumni.

Building a network
Today, Jason likes to give back, providing guidance to other entrepreneurs. "I didn't have a mentor early on, but I did meet other business owners who were willing to sit down with me, have a coffee and answer my questions," he says. "Today, a lot of people want to have coffee with me, and I am happy to do it. I love to give back and help others."