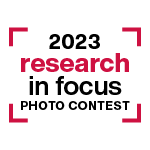 Your research tells a story. Capture it with a photo and you could win one of five cash prizes! Show the world how University of Guelph research has real-world impacts and improves life. Whether you're using a smartphone or a camera – we want to see your research.
Prizes
This year, photographers will be entering their photos into one pool, and not multiple categories. On top of our usual prizes, the Ontario Agri-Food Innovation Alliance is supporting a prize for the best photo with an agricultural theme. Prize details are below.
First Prize: $750
Second Prize: $500
Third Prize: $250
Community Choice: $500
*Special prize Agri-Food in Focus: $750
Eligibility
All University of Guelph faculty, staff, students and postdocs are eligible to submit photos for this contest. Photos must capture some aspect of research happening at the University of Guelph.
Submission Deadline
November 3, 2023 at 11:59 pm
Do you need some inspiration? Look through our publications or check out some of the photos we've posted on Facebook, Twitter and Instagram.
Photo Galleries