A new perspective on transition cow health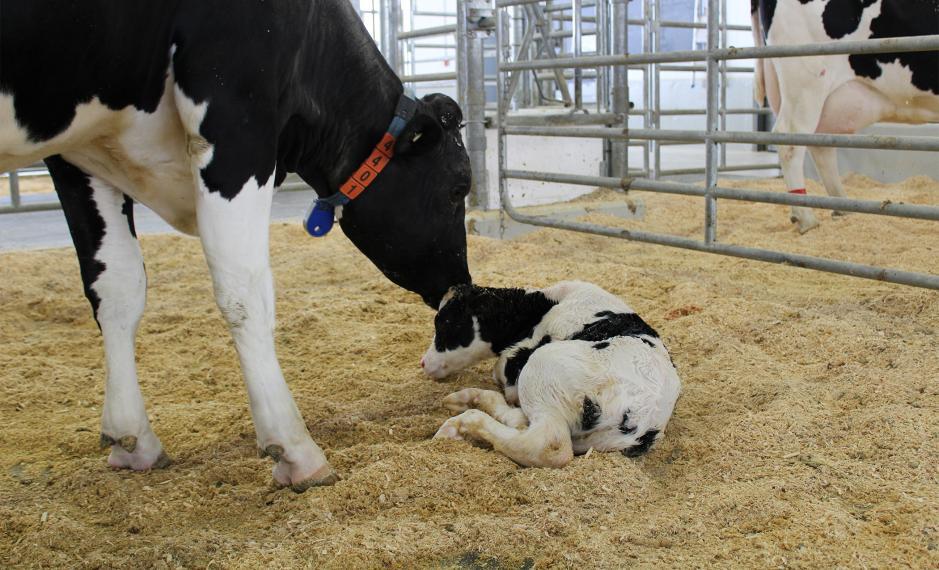 Pregnant cows often experience two simultaneous phenomena that are neither good for them nor their soon-to-be-born calves – they reduce their feed intake right before calving, and simultaneously, they may experience chronic, low-grade, body-wide inflammation.
How does one affect the other, and which one comes first? Researchers at the U of G are investigating that, and trying to prevent metabolic inflammation that may contribute to health problems.
Prof. Stephen LeBlanc and post-doctoral researcher Dr. Osvaldo Pascottini of the Department of Population Medicine are using a novel approach to maintain feed intake and health by examining the effects of anti-inflammatory therapy around calving.
"Outwardly, the cows experiencing systemic inflammation look normal, but inflammation correlates with lowered feed intake," LeBlanc says. "Once we discover whether inflammation puts cows off feed, or reduced intake and fat mobilization trigger inflammation, we will be able to determine if an anti-inflammatory, such as a medication or supplementation of certain fats in the diet, can fix this common issue."
Affected cows tend to eat less one to two weeks before calving. Reduced feed intake during the close-up dry period can lead to several issues in dairy cows, including lowered milk production and increased disease risk.
At the same time, inflammation may lead to metabolic disease – a link that has been discovered in human medical research. Inflammation is identified through blood tests that recognize specific components associated with inflammation, such as haptoglobin – a blood protein.
For their research at the new Elora Research Station – Dairy Facility, LeBlanc and Pascottini will restrict feed intake for a few days in late-pregnant cows to see if an inflammatory response is produced, and administer an anti-inflammatory to half the cows. During reduced intake and after providing the cows with full levels of feed again, researchers will determine if inflammation is lowered and feed intake returns to normal more smoothly if inflammation is controlled.
The impairment of the immune system is also thought to be accompanied by inflammation. Normally, inflammation aids the immune system. But unnecessary inflammation is believed to hinder it. Researchers will also analyze the function of immune system components while conducting this study.
"By understanding why some cows don't eat well before calving, we can work to develop preventative methods to stay proactive, not reactive," LeBlanc says.
The Ontario Ministry of Agriculture, Food and Rural Affairs, along with Boehringer-Ingelheim and NSERC, provided funding for this project.
Share this page
Find related news by keyword
News Topics