Automated feeding systems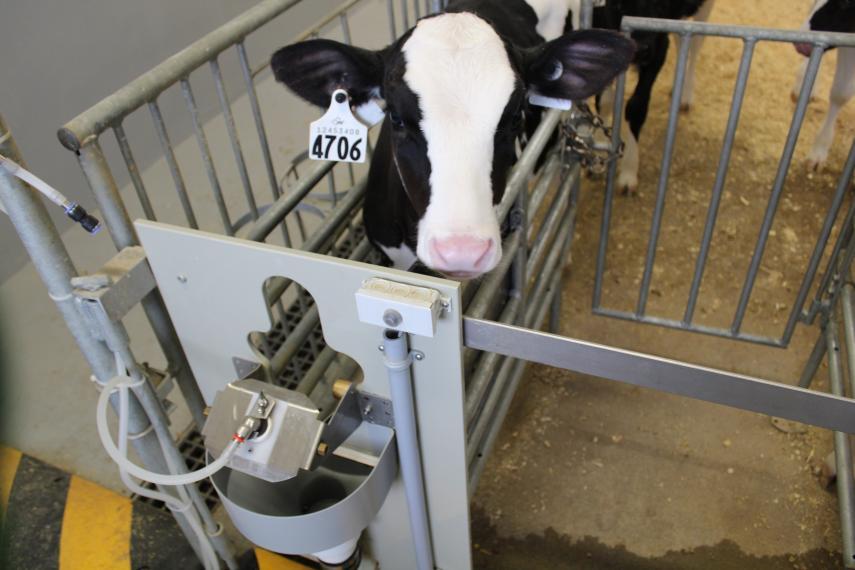 A growing calf is a hungry calf, but feeding calves to appetite by hand is prohibitive from a labour point of view. Each calf would need to be fed roughly 10 times daily.
At the same time, there's a growing emphasis on mimicking natural settings and accommodating animals' natural behaviour on the farm. Consumers want products from animals that are humanely managed, so a balance must be reached between animals having quality life and economic and efficient production systems.
Enter the automated calf feeder. It uses sensors to read the electronic ID tag in a calf's ear and dispenses a measured amount of milk formula, which can help ensure that calves are not feeling hungry waiting for feed.
In nature, cows communicate with their calves and encourage them to nurse. Of course, it's different with an automated feeder, in which calves are in a pen, expected to walk into a metal stall, latch onto an artificial rubber teat and drink milk.
Professor Derek Haley from the department of population medicine at the University of Guelph (U of G) is developing reliable methods for teaching calves to use the feeder. He's also testing the efficacy of automated feeding systems, making sure those on the market are up to par.
"We're really trying to make sure that the systems that are put out on the market are animal-friendly, take behavioural biology of the animal into account, and ultimately ensure the well-being of the animal and efficient use of that system by farmers," Haley says.
Besides allowing calves to feed more often, the automated calf feeder monitors milk consumption and weans calves when it's time to change their diet. The system has the ability to recognize individual calves by sensing their ear tags, and keeps track of each calf's dietary needs, which can be programmed by producers to meet the needs of individual calves. That means calves additionally benefit from being able to roam within a larger pen and socially interact with others. 
Other feeding methods, such as feeding from a pail, don't take the calf's strong motivation to suck from a teat into account, which can lead to behavioural problems. Calves will start to suck on body parts of nearby calves, even mistakenly drinking urine from male calves in some cases.
Looking ahead, Haley and his team want to continue to test the benefits of automated feeding systems and find which design components work best, and how changes can improve animal welfare while keeping expenses low.
This research project was completed with the support of U of G MSc student Tanya Wilson and PhD candidate Catalina Medrano-Galarza. Dairy Farmers of Canada's Dairy Research Cluster program funded the project, with collaborators from the University of British Columbia and McGill University
 
This story was written by SPARK and originally published in the
Milk Producer
.
Share this page
Find related news by keyword
News Topics