Getting results at Elora Dairy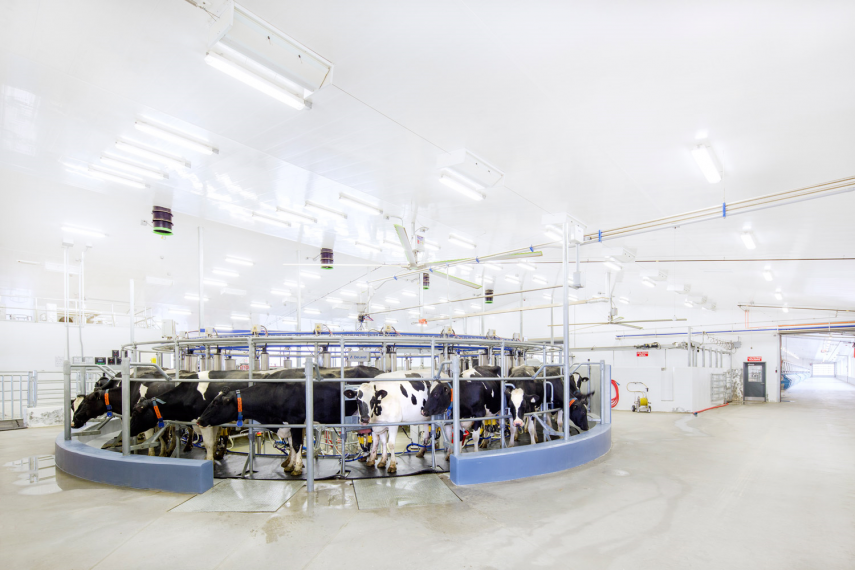 Researchers are starting to gather results at the new Elora Research Station – Dairy Facility, where advanced technology is helping University of Guelph scientists investigate animal health issues, such as nutrition, genomics, calf behaviour, welfare and overall cow health.
Professors David Kelton and Derek Haley from the department of population medicine have utilized Elora Dairy's facilities since its doors opened in May 2015.
"Elora Dairy offers top-of-the-line, high-end technology that helps us do innovative work no one has done before," Haley says.
The centre offers an enclosed, easily controlled facility with technology that would be expensive to obtain with single project funding alone and difficult to conduct on most commercial farms.
Cows at Elora Dairy are trained on an automated milking system. Kelton augments this system with additional technology that measures daily somatic cell counts (SCC), an identifier of udder infection in cows.
This is giving Kelton more detailed data on the rise and fall of SCCs on a daily basis. From this, he and others can better identify typical patterns for SCCs and which of these patterns producers should watch for and react to.
As well, researchers can easily obtain milk culture samples to identify if SCC patterns are indicative of true infections or false alarms by directly testing for bacteria that cause udder infection. The daily SCC results can be combined with other measures at the quarter level, such as electrical conductivity, to even better define the mastitis status of the cow.
"Elora Dairy allows us to evaluate methods, technologies and products that the industry is using, and get that knowledge into the hands of dairy producers and veterinarians," Kelton says.
For his part, Haley is focused on calves and their ability to use automated feeding systems. Calves' growth rate and health depends on their ability to use automated feeders, ultimately affecting productivity for producers.
How calves responded to their initial training session mitigated the effects of different stall wall designs, suggesting that differences in the personality or demeanour of animals was very important. Haley has hinted at the possibility that just like with human learning styles, different ways of training calves may help maximize the efficiency of transitioning calves onto automated feeders.
Researchers compared ages at which calves are first introduced to the feeder (five days or within 24 hours of birth) to see if there were differences in how quickly they learned. Such observations were possible because of the technology available at Elora Dairy and the ease of changing structures at the facility.
"There's a lot more work to be done in this area and many questions of interest," Haley says. "It's so easy to repeat the study design and manipulate different variables at this facility, which saves us time and expenses."
Haley and Kelton share the same sentiments about the well-being of the cows housed at Elora Dairy.
"The facility hugely benefits the animals—it has a lot of natural light and air movement," Haley says. "When the curtains are open, it feels extremely comfortable in terms of the air quality, and the gentle breeze flowing through. The cows might find it hard to distinguish between the indoors and outdoors in that respect."
"With this facility, we can provide the most comfortable and clean environment for the cows without subjecting them to extreme weather conditions," Kelton adds. "We can also provide enrichment in the form of grooming brushes. The technology at Elora Dairy allows us to perform quality research while continuously improving the lives of cows."
Researchers will continue to strive for a better understanding of dairy technology and optimal methods to use them.
This research was conducted in partnership with the Livestock Research Innovation Corporation and the Ontario Ministry of Agriculture, Food and Rural Affairs. Dairy Farmers of Ontario provided funding.
 
This story was written by SPARK and originally published in the
Milk Producer
.
Share this page
Find related news by keyword
News Topics