Toward greater sustainability: Bioengineering researchers are converting food waste into compostable packaging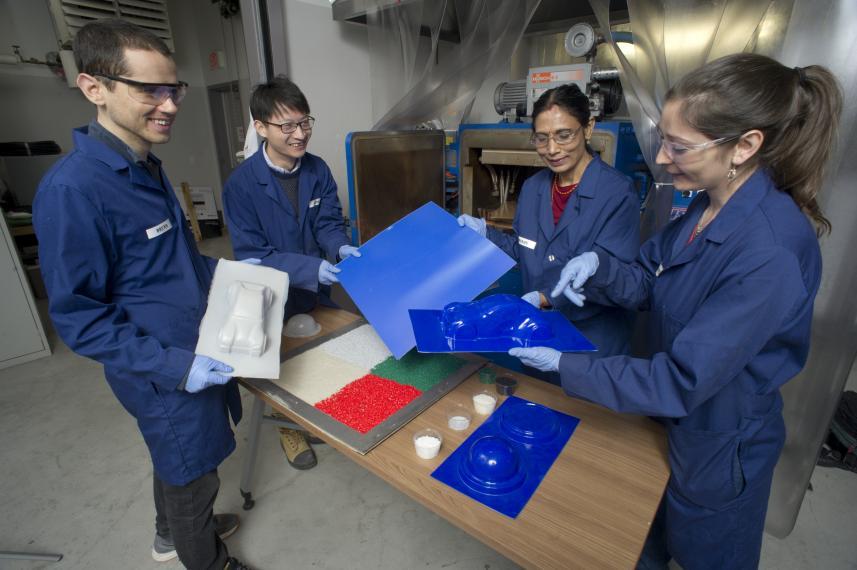 Canada's ever-growing population is accumulating food waste—currently, more than half of the food produced in Canada ends up in the garbage.
A research team at the University of Guelph is finding ways to convert food waste into compostable packaging through bioengineering.
Prof. Manjusri Misra, School of Engineering, and her research team are searching for ways to use non-food biomass and innovative production processes to create sustainable packaging.
Misra's team has used non-edible agricultural residues such as oat and rice hulls—as well as low-value products from industrial processes— to make bio-plastic packaging through compounding, injection moulding, film processing, thermoforming or 3-D printing.
The researchers aim to demonstrate how food waste can be used for sustainable packaging purposes. This promotes the concept of a circular economy, when developing greener plastic materials. Misra says bio-based products are economically and environmentally beneficial and may substitute single-use, non-degradable plastics that dominate landfills.
"Although it might take a while to be commonplace for consumers and industries to adopt this more sustainable practice, the outlook is promising," says Misra. "Some of the possibilities we are working on now weren't possible 10 years ago."
Bio-composites are materials that combine biofibres or other bio-based fillers with plastic resins. This approach reduces the amount of plastic used, the cost, and improves the sustainability. Several wastes from industrial food processing, e.g., tomato skin, potato skin, grape pomace, apple pomace, coffee chaff, spent coffee and tea, are being tested for bio-composite applications in Misra's lab. This research also considers challenges to product implementation, aiming to develop price-competitive solutions, that require collaboration with industry partners. "Looking to the future, there is lots of work to be done, but there is great potential for commercial use," says Misra.
Misra's research team includes an extensive group from across the University of Guelph in engineering, plant agriculture, geography, food science, management, and food, agricultural and resource economics, as well as researchers from McMaster University, Western University and provincial and federal research labs. This research is funded by the Ontario Agri-Food Innovation Alliance through the Gryphon's LAAIR program. Additional funding was provided by the Natural Sciences and Engineering Research Council and the Ontario Ministry of Economic Development, Job Creation and Trade. 
Articles in Research magazine are written and produced in part by participants in the Students Promoting Awareness of Research Knowledge (SPARK). See more stories from the 2019 Agri-Food Yearbook (PDF).
Share this page
Find related news by keyword
News Topics