Advancing agri-food research and innovation: 2019-20 projects
Research funded by the Government of Ontario and supported by the Ontario Agri-Food Innovation Alliance (Alliance) solves real-world challenges and yields meaningful innovations that ensure the success of the province's agri-food sector and that promote rural economic development throughout Ontario.
The Alliance is committed to improving life by supporting the people, places and programs that generate solutions with global impact. The Alliance helps build strong rural communities and a prosperous, safe and environmentally sustainable agri-food sector in Ontario—now and for the future.
Research funding supports the University of Guelph's critical mass of faculty, technical staff and graduate students engaged in high-quality research and training opportunities focused on the agri-food needs of Ontarians. Research funding for individual projects is awarded through an annual, competitive program. Applications are rigorously reviewed based on scientific merit, innovation, contributing partners, potential benefits and best fit with established priorities in each theme area.
See the Ontario Agri-Food Innovation Alliance 2019/20 Projects (PDF)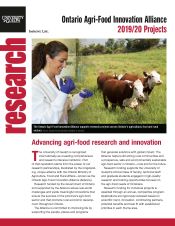 Share this page
Find related news by keyword
News Topics