U of G student discovers agriculture industry through goat reproduction research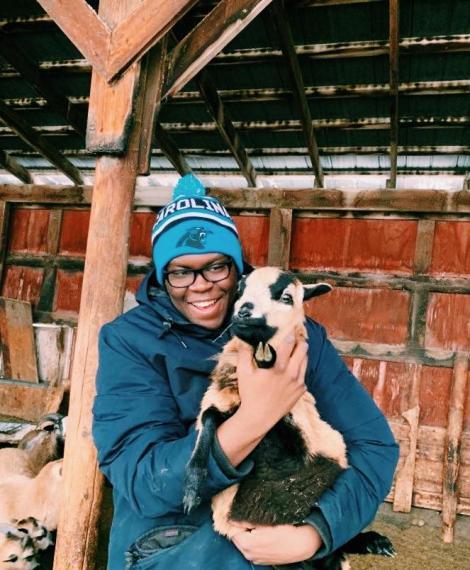 Ontario's goat sector is growing by leaps and bounds, and that's where field research can be helpful. Agri-food researchers spend time in the field to become familiar with their topic of study. This allows them to learn what producers are facing as they work toward sustainable production.
In summer 2018, former U of G honours agriculture student Oluwatimileyin Abolarin began researching the intricacies of goat production in Ontario, finding ways to make it more competitive and profitable. Through the Undergraduate Student Experiential Learning (USEL) program, he received mentorship for research to close this knowledge gap in the industry.
"My goal was to help producers on the research end by determining which out-of-season breeding methods are most effective," said Abolarin.
Under the guidance of the Ontario Ministry of Agriculture, Food and Rural Affairs (OMAFRA) dairy specialist Marlene Paibomesai and Department of Animal Biosciences Prof. Eduardo de Souza Ribeiro, Abolarin analyzed more than a decade's worth of Ontario goat milk price and production data.
His findings aligned with those of previous literature: more than 60 per cent of goat kid births occur during the short-day breeding season—the season with the least amount of light per day. This yearly pattern results in a surge in goat milk production during the months following the breeding season and low production during the rest of the year.
Abolarin then interviewed Ontario goat milk producers to see how they overcome this seasonal breeding challenge and the associated economic impacts on milk production caused by fluctuating supply.
Based on his dialogue with producers, he found that a variety of out-of-season breeding strategies are being used across the province. Abolarin's summer research placement was a start toward determining the optimal breeding strategy. He hopes future research on breeding methods will be done to determine the most efficient strategy for out-of-season breeding.
"If researchers determine the most effective breeding methods, then this information can be given to producers, especially those who are new to the dairy goat industry, using knowledge mobilization strategies," he says. "This would allow dairy goat products to remain available and affordable all year round, benefiting both producers and consumers."
Through his participation in USEL, Abolarin also discovered his interest in animal reproduction. The lactation curves and milk data figures he generated are now being used in the U of G animal reproduction course to teach students about reproductive seasonality.
"The many career opportunities I discovered within the agriculture industry were for sure the greatest takeaway," Abolarin said about USEL. "The program opened my eyes completely."
About the USEL program

The Undergraduate Student Experiential Learning (USEL) program was established in 2010 by the Agricultural Development Branch of OMAFRA in cooperation with the Ontario Agricultural College. It's aimed at third-year undergraduate students, to support their personal and professional development while addressing knowledge gaps in the agri-food industry and enhancing the working relationship between OMAFRA and U of G.
Articles in Research magazine are written and produced in part by participants in the Students Promoting Awareness of Research Knowledge (SPARK). See more stories from the 2019 Agri-Food Yearbook (PDF).
Share this page
Find related news by keyword
News Topics