Cheers to hardier vines: Helping Ontario's wine sector develop more cold-resistant grapevines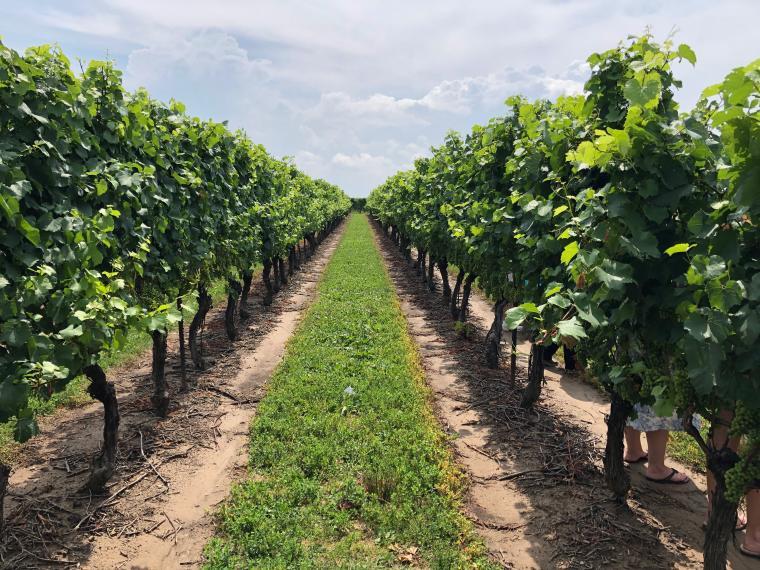 The growth of the Ontario wine sector depends partly on grapevines' ability to withstand changing climate—in particular, the more unpredictable deep freezes that challenge the vines' ability to bounce back in the spring.
At the Simcoe Research Station, University of Guelph researchers are field testing several new grape rootstocks (the separate root system of a grafted grape vine) to discover whether a variety can better resist harsh winter elements found here by merely changing the rootstock.
Prof. Helen Fisher, Department of Plant Agriculture, is working with Riesling, Chardonnay, Cabernet Franc and Pinot Noir varieties to test this theory. "The issue about expanding the acreage here is high vigour negatively affecting winter hardiness," she says. "We need grapes to live through the winter. Wineries and growers lose crop over most winters—it happens. But if we can reduce or minimize that loss, it would be wonderful."
Although the potential winter hardiness of any variety is genetically fixed, it can be modulated by the effect of the rootstock and the rate of growth. "If we use a rootstock derived from a native species—Vitis riparia— already evolved to survive highly variable southern Ontario winters, perhaps we can affect how fast the variety acclimates in the fall or how fast it de-acclimates in the spring," says Fisher. This could enhance the resilience of that variety to more changeable climate— more frequent early fall freezes, more severe mid-winter lows or more frequent early spring thaws.
For this research, Alireza Rahemi, a previous post-doctoral collaborator, collected 900 Vitis riparia clones from sandy soil regions all over Ontario. These included grapegrowing regions such as Prince Edward County, Kent County, Norfolk County and Elgin County, as well as more northerly regions of the province.
Pinot Noir was grafted onto 12 of these clones selected for their low vigour and potential drought tolerance, properties considered important for emerging wine districts such as the Norfolk sand plains. Fisher says the results will offer insight into whether these rootstocks will affect vine survival in unconventional growing regions outside the established Ontario wine districts.
"We know it is cold here and we know the Vitis riparia clones chosen for these rootstocks are already adapted to Ontario soils and weather," says Fisher. "The soil type and climate of the Norfolk region is very unique, so the information from the trials could be crucial for expanding wine grape growth in certain areas of Ontario where high vigour aggravates winter injury."
Bolstering this business could be very lucrative, as the wine industry contributes greatly to the economy of the province and country. The Canadian Vintners Association and the Winery and Grower Alliance of Ontario report that the Ontario wine and grape industry contributes $4.4 billion to the Canadian economy. The sector also generates thousands of jobs for Ontarians in retail, farming and product development.
"If these trials are successful, it will benefit Ontario wineries," says Fisher. "They will have greater winery productivity, and more importantly, more consistency in production if winter injury can be mitigated." Trials are ongoing with these rootstocks. Fisher and the research team will continue to monitor the research vineyards over several winters.
This research is funded by the Ontario Agri-Food Innovation Alliance. Additional funding was provided by the Agricultural Adaptation Council through the Growing Forward 2 program, the Ontario South Coast Wineries and Growers' Association and Ontario Wine and Grape Research Inc.
Articles in Research magazine are written and produced in part by participants in the Students Promoting Awareness of Research Knowledge (SPARK). See more stories from the 2019 Agri-Food Yearbook (PDF).
Share this page
Find related news by keyword
News Topics