Animal Health Lab safeguards animal health behind the scenes during pandemic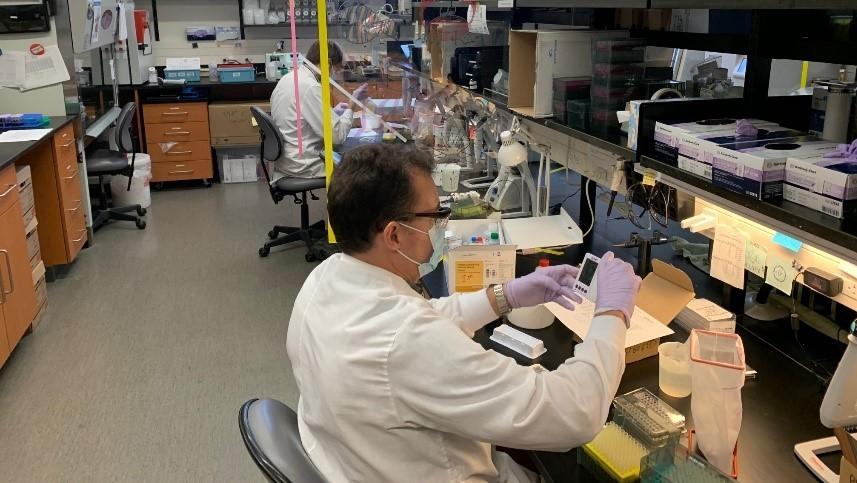 When it became apparent that SARS-CoV-2, the virus that causes COVID-19, was coming to Canada, the Laboratory Services Division at the University of Guelph followed its emergency preparedness plan to ensure services could continue in the event of staff illness or supply chain disruption.
But unlike other service providers, the fully accredited Animal Health Lab (AHL) specializes in infectious disease diagnostics and surveillance for livestock, poultry, horses and pets – so its staff were also preparing for the possibility they would be testing animals for the virus.
"We were unsure at the beginning, because the first SARS coronavirus [in 2003] could also infect pigs, as does influenza," says Maria Spinato, director of the AHL. "AHL developed a test for SARS-CoV-2 in animals in case it affected pigs and placed the swine industry at risk."
As part of the Ontario Ministry of Agriculture, Food and Rural Affairs (OMAFRA), the AHL focuses on animals that enter the food chain. It also serves as the central source of provincial animal disease trend information, placing it at the forefront of emerging disease surveillance and testing.
Luckily, most agricultural species appear to be resistant to SARS-CoV-2 infection. The animals at risk include non-human primates, large cats (tigers and lions), house cats, ferrets, hamsters and farmed mink. Cats generally have only mild illness.
While the AHL generally tests livestock rather than companion animals, if pet testing could benefit public health—such as cats living in a shelter that could infect workers caring for them—the 70 expert technical and professional staff who safely test for diseases are ready. In the case of SARS-CoV-2, the only animals currently eligible for testing are cats, and the Chief Veterinary Officer must approve each individual test before samples are submitted to the AHL to limit the number of tests to only those that support public health.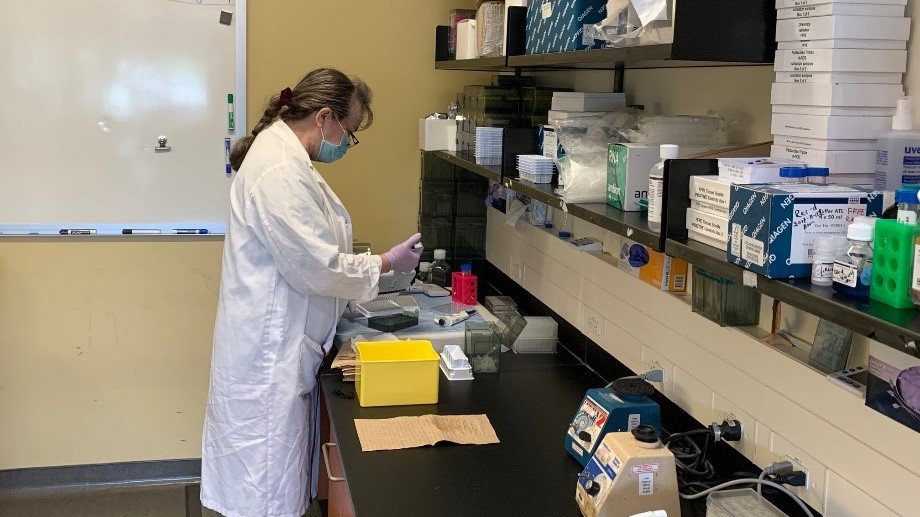 Staying on top of new diseases
To develop a test for SARS-CoV-2 that could be used for animals, the AHL turned to its resident virologist, Dr. Davor Ojkic, who assessed several existing options and for the most appropriate method.
So far, the laboratory has not been called on to run many tests for the SARS-CoV-2 virus in cats, but it certainly is not letting its guard down. Spinato says she is currently monitoring the emergence of a new strain of influenza (G4 EA H1N1) in China that infects both swine and people, and has been watching as African swine fever (ASF)  spreads throughout China, Russia and Eastern Europe. Preparation for a possible incursion of ASF virus, for which there is a high mortality rate and no vaccine, has been under way for more than two years.
"Animal diseases move in unpredictable manners – through feed, by human and animal movements," says Spinato. If the disease is confirmed in Canada, the AHL could be asked to support the Canadian Food Inspection Agency (CFIA) and OMAFRA as they set up quarantine areas and attempt to eradicate ASF. This would entail providing hundreds or perhaps thousands of tests per day. .
Pandemic or not, the AHL sends real-time alerts to OMAFRA twice daily, giving provincial partners crucial time to respond and contain emerging diseases should  the AHL detect any of the 119 hazards—from rabies to highly pathogenic avian influenza—under the Animal Health Act.
The process worked efficiently in 2015 when the AHL responded to an outbreak of H5N2 avian influenza and helped ensure that the disease was quickly contained, with minimal disruption to the province's poultry industry. The Midwest American states were less fortunate, resulting in euthanasia of millions of birds.
Overall, the AHL has remained busy during the pandemic. Over the first three months, AHL ran more than 2,000 cases comprising 206,541 individual tests/procedures, including virology, bacteriology, molecular, parasitology and clinical pathology tests that support its role in disease surveillance, analytics and diagnostics.
"As an essential service from the beginning, we never stopped testing, not even for a day, and we continue to support agriculture in the province," notes Spinato.
The Animal Health and Agriculture and Food Laboratories are funded by OMAFRA through the Ontario Agri-Food Innovation Alliance, a collaboration between OMAFRA and the University of Guelph.
Share this page
Find related news by keyword
News Topics