Ontario Dairy Research Centre to play key role in new $12-million genomics research project
The University of Guelph will lead a global dairy farming genomics project expected to revolutionize breeding in Canada's multibillion-dollar dairy farming industry.
Dr. Christine Baes, a professor in the Department of Animal Biosciences, will head the four-year, international and multi-disciplinary initiative that aims to identify novel genetic traits for a new selection index for dairy cattle resilience.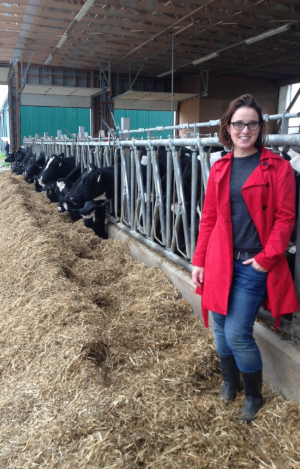 Baes said the group will develop traits that help animals adapt to changing environmental conditions while maintaining milk productivity, dairy herd health and cow fertility – all in a way that feeds people and protects the environment.
The results will directly benefit farmers and cattle breeders, helping them to identify superior livestock for breeding, said Baes. She said the system will ultimately help farmers save some $200 million in costs associated with poor cow fertility and disease, as well as animal feed costs that make up the largest expense in milk production.
The project builds on the world-class platform created for dairy research at U of G through the Ontario Agri-Food Innovation Alliance; a partnership between the Ontario Ministry of Agriculture, Food and Rural Affairs (OMAFRA) and U of G.
The U of G researchers will work with the dairy herd at the state-of-the-art Ontario Dairy Research Centre in Elora, which is owned by the Agricultural Research Institute of Ontario and was established in partnership with OMAFRA, U of G and Dairy Farmers of Ontario.
Data collected at the research centre, together with data from national and international partners, will be used to establish a reference population for genomic selection of feed-efficient animals.
Data collection begins at birth and continues throughout most of the animals' first lactation. Technicians, researchers and students measure methane from individual animals multiple times a day.
"It's a lot of work, but we aim to have data on over 17,000 individual animals by the end of the project. Over 1,000 of those will be measured at Elora," said Baes.
The dairy centre, located 15 minutes' drive north of Guelph, has been an integral part of this research since 2016.
"We have established data pipelines for many important traits such as birth weight and rumination on the animals at Elora. Data on feed efficiency and methane traits are, however, a whole new challenge. They are very expensive to measure, require special equipment and require very dedicated staff and technicians," said Baes.
"There are currently only two dairy research facilities in Canada that have the capability for this type of data collection, and Elora is one of them."
The research team will also work with cattle at more than a dozen area farms to gather health and feed efficiency data for the national project.
Funding for the project comes from Genome Canada and regional genome centres including Ontario Genomics (including the Ontario Research Fund), Genome Alberta, Genoma Quebec and Genome British Columbia.
Baes, who holds the Canada Research Chair in Livestock Genomics, will lead the project along with co-principal investigators at the University of British Columbia, the University of Alberta and Université Laval.
The project will leverage the expertise of about 40 University of Guelph faculty members, staff members and student researchers, including population medicine professor David Kelton, holder of the Dairy Farmers of Ontario Chair in Dairy Cattle Health, and Prof. Flavio Schenkel, director of the Centre for the Genetic Improvement of Livestock in the Department of Animal Biosciences.
Other Canadian partners include researchers at the University of Prince Edward Island and at companies and industry organizations across the country.
Share this page
Find related news by keyword
News Topics