#BehindtheNumbers: 93 accredited tests for food quality and safety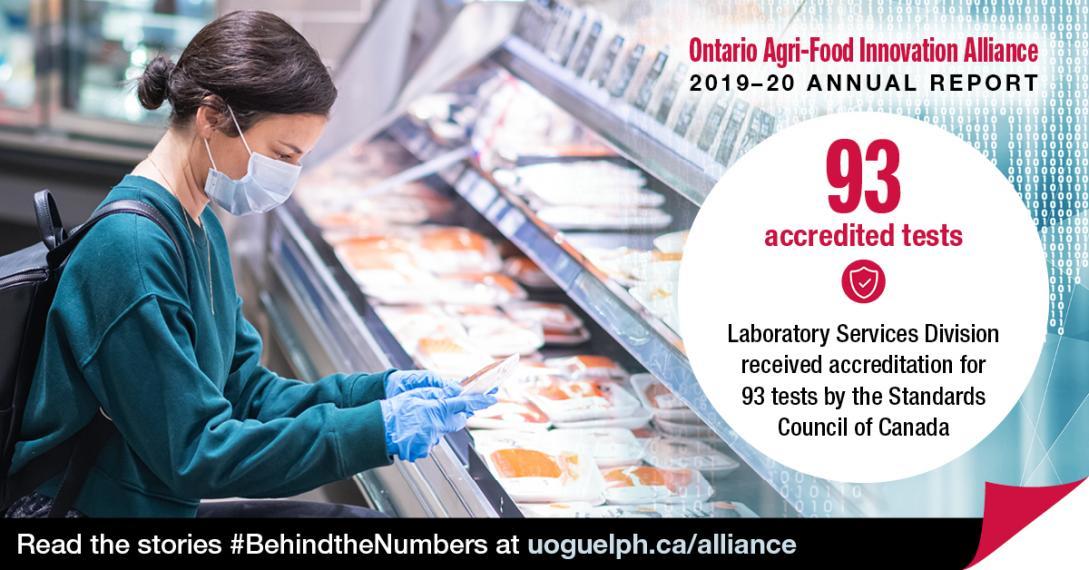 The Laboratory Services Division is accredited by the Standards Council of Canada (SCC) and the Canadian Association of Laboratory Accreditation to the International Organization of Standardization standard 17025 (ISO/IEC 17025:2017).
Accreditation means that a third party audits laboratory tests and methods for consistent, quality-controlled application. The audited lab must also accurately test samples that contain contaminants unknown to the lab. These samples are provided by the accreditor, and successful identification of the contaminant is another indicator that the lab is producing high-quality, accurate results — the foundation of a safe and transparent food supply.
Among the 93 tests that received accreditation by the SCC are milk composition testing and antibiotic and bacteria testing for fluid milk. The Agriculture and Food Laboratory uses these accredited tests to process about 800,000 samples of fluid milk every year, from every bulk tank on every dairy farm in Ontario. The sampling and testing of fluid milk continued even after Ontario declared a state of emergency in March 2020. The AFL also tests tens of thousands of other food and environment samples.
Frontline workers in the Laboratory Services Division helped keep food staples — including milk, eggs and meat— on grocery store shelves. With the AFL open for business, meat inspectors were able to send samples for analysis, egg producers were able to monitor Salmonella levels in their barns, and processors could wash vegetables confident in the quality of their water.
Dig deeper
#BehindtheNumbers is a series of stories from the Ontario Agri-Food Innovation Alliance 2019-20 Annual Report, Growing Ontario Solutions, that showcases how the Alliance drives impact in Ontario.
Share this page
Find related news by keyword
News Topics