#BehindtheNumbers: An enhanced system for research data access and storage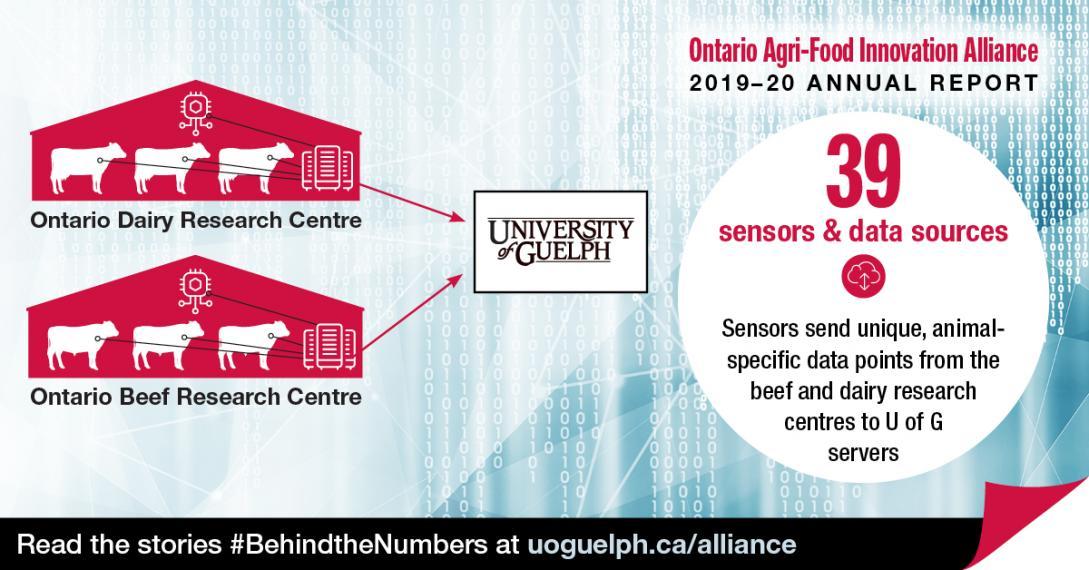 The numbers: Thirty-nine sensors send unique, animal-specific data points from the beef and dairy research centres to University of Guelph servers.
Behind the numbers: The Research Station Data Access Portal makes it easier for researchers to access data generated at the Ontario Dairy Research Centre and Ontario Beef Research Centre– Elora. This project not only facilitates researcher access to relevant data but also ensures data is consolidated, archived and made available for future research. Here is how it works:
Thirty-nine sensors and data sources, including those that track feed consumption and milk yield, send data to on-site servers at the research centres.
Every night, data is sent from these servers to secure servers at the University of Guelph.
Sensor data is combined with data from other sources, including Dairy Farmers of Ontario, which tracks milk quality and composition through its bulk tank sampling program.
Data is cleaned, organized and made available to researchers through a secure online portal. Data is available by cow ID. Researchers see only data related to their projects.
#BehindtheNumbers is a series of stories from the Ontario Agri-Food Innovation Alliance 2019-20 Annual Report, Growing Ontario Solutions, that showcases how the Alliance drives impact in Ontario.
Share this page
Find related news by keyword
News Topics