Sampling wild bee pollinators in commercial fruit crops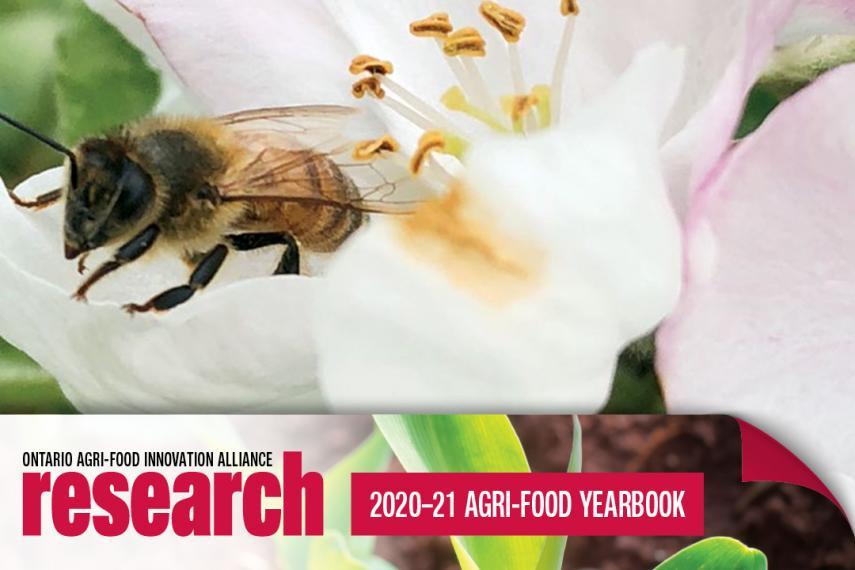 Apple crops rely on pollinators to reproduce, so growers often spend thousands of dollars every year to house and manage honeybee colonies. However, previous studies have shown that, when diverse and abundant, wild bees can provide significant pollination services in orchards. Depending on the apple variety, growers may be able to use fewer hives or none at all.
Working with OMAFRA staff, researchers from the University of Guelph set out to explore wild pollinators in Ontario orchards and to encourage management practices that will help these species thrive. In summer 2019, undergraduate student Sisley Irwin worked with OMAFRA specialists Hannah Fraser and Kristy Grigg-McGuffin and Dr. Nigel Raine, School of Environmental Sciences, to assess native bee abundance and diversity in Ontario apple orchards. They focused on observations and collections through the bloom period of the 'Gala' variety as well as collections of co-blooming varieties.
"We wanted to develop baseline information on who the various visitors to apple blossoms might be," says Irwin. "Knowing which native bees are present in these fruit crops can provide an opportunity to encourage best management practices to support the native species and their needs."
Native pollinator species better suited to local climate and weather conditions may be more effective than managed honeybee colonies. Previous Ontario orchard studies showed scant wild bee activity, but the sampling methods underestimated both abundance and diversity of those pollinator species. Irwin's study, conducted on four Norfolk County orchards, used more extensive sampling that accounted for variations in bee activity with bloom stage, apple variety, weather conditions and time of day.
The researchers identified 32 species among the orchards. Certain orchards had more wild pollinators than others, possibly due to differences in the landscape ecology of the sites and pest management practices – factors that warrant further study.
"The landscapes between sites were different," says Irwin. "Many of the wild bees represented in the surveys are ground-nesting species, and greater levels of available nesting habitat can be critical in maintaining these populations. By assessing populations of wild pollinators on their own farms and making small changes in management of their surroundings, growers can improve native bee success and improve pollination on their orchards," says Irwin.
This research project was funded by the Ontario Ministry of Agriculture, Food and Rural Affairs through the Ontario Agri-Food Innovation Alliance.
This article originally appeared in the 2021 Agri-Food Yearbook edition of Research magazine.
Written by Dianne Priamo.
Share this page
News Topics