New U of G director brings industry expertise to laboratory services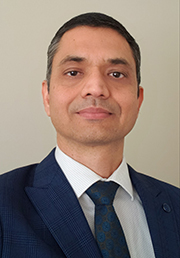 Dr. Rafikali Momin, an experienced leader and laboratory sciences expert, has been named the new director of the Agriculture and Food Laboratory and co-director of University of Guelph's Laboratory Services Division as of April 18, 2022.
U of G's Laboratory Services Division, comprised of the Agriculture and Food Laboratory (AFL) and the Animal Health Laboratory (AHL), provides comprehensive, reliable, accredited testing services to help build transparency and public confidence in the agri-food sector.
Dr. Momin, an expert in toxicology science, will continue to advance the AFL's position as a laboratory leader that greatly benefits the agri-food and rural sector in Ontario. 
"The AFL is a leader in laboratory excellence," says Dr. Beverley Hale, associate vice-president, research (Agri-Food Partnership). "Under Dr. Momin's leadership, AFL will continue its tradition of excellence and innovation, working with partners across the food, veterinary and agriculture sectors to help ensure that our food is safe and that our plants, animals, people and environment are healthy."
With support from the Ontario Ministry of Agriculture, Food and Rural Affairs through the Ontario Agri-Food Innovation Alliance, the AFL uses new, cutting-edge technologies to continuously improve the services they offer to the provincial and national agri-food sector. 
Dr. Momin holds a PhD from Michigan State University in horticulture and natural product chemistry.  More recently, he was co-director and senior research scientist in the Toxicology Section of Labstat International Inc., where he achieved success in toxicology science, client service, operational excellence and leadership. Dr. Momin has expertise in quality assurance and quality control, laboratory management, biosafety, Good Laboratory Practice, in vitro toxicology, molecular biology and biotechnology.  
"I look forward to working with the laboratory teams to continue the long-standing innovative testing services that the AFL has provided for many years to clients in multiple sectors," says Dr. Momin. "Together, we will build upon the AFL's commitment to excellence and remain at the forefront of food safety testing in Canada." 
With the appointment of Dr. Momin, Dr. Linda Lissemore steps down as interim director of the AFL after serving in the role since July 2020.
"We also offer our deepest thanks to Dr. Linda Lissemore, who so aptly led the AFL as interim director, including during the many challenges to operations posed by the COVID-19 pandemic," says Dr. Hale.
Share this page
News Topics